Well done guys we are so proud of you. It was good that we got an extra 14 runners out Monday. Stockport had 18! Without matching their runners, I think we'd have lost. Officially from CrazyLegs: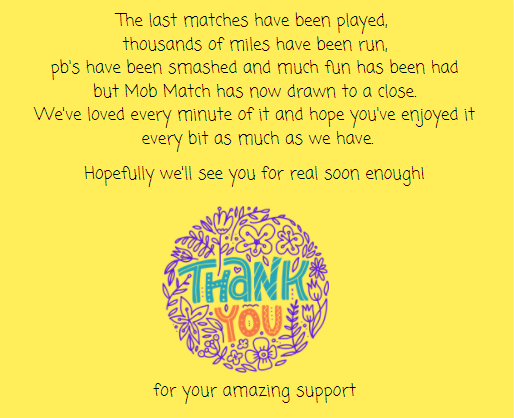 The results from the Last Hurrah of Mob Match were;
Styal Running Club 198 – We Run Edgworth 296
Stockport Harriers & AC 5614 – Wilmslow Running Club 6306
Chorlton Runners 34946 – Macclesfield Harriers & Running Bear RC 27127
Bollington Harriers 1896 – Stockport Tri Club 3147
Thanks again to everyone who took part, both in the Last Hurrah and throughout the last six weeks of Mob Match – we've really enjoyed it.
///////////////////////////////////////////////////
Our winning margin was 692.  We had 80 runners to Stockport's 74. So it would have been much closer had they matched us in runners.
Out of 19 Cat-1's we had 14. Fabulous running.
Congratulations to:  Louisa Whittingham,  Laura Fairhurst,  Sharon Johnstone,  Janine Ellis, Tracy Bown  and  Nicky Mowat.
And to the men: Qes Hussain,  Andrew Cleal,  Peter Speake,  Jim Pendrill,  Tim Billington,  Paul Norris,   Mick Fairs  and  Ian Ashcroft.
And a great turnout and performance from our 'youngsters': Joe,  Ed,  Charlie,  Ava,  Finn, Arthur,  Anna,  Abigail,  and   Holly.
So our overall Performance throughout the competition was :
Mob Matches run: 5
Won: 3
Lost: 2
Total Wilmslow Runners and points:  428 uploaded times scoring 42,965 points
More daft stats tomorrow!