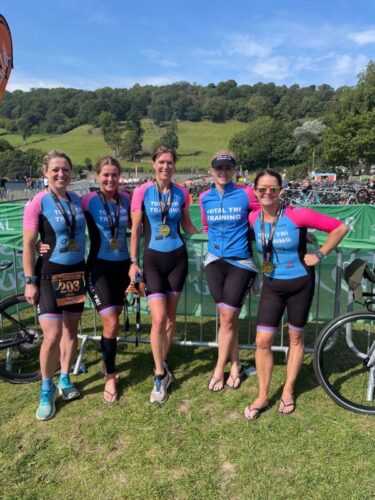 Two of  our lady members took on Bala Triathlon representing Total training Tri Club.
With rumours of John McTiernan looking to make  his next film: Tri Hard III. J-ankles  hopes of securing the lead part went up in flames as an old injury of hers recurred.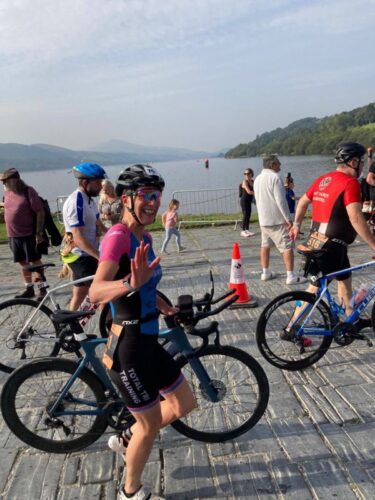 Sadly her race ended in  a stroll along the lake.
Laura, back from injury, put in a fine performance and finished 3rd in her category. I wonder was it Colin's baptism?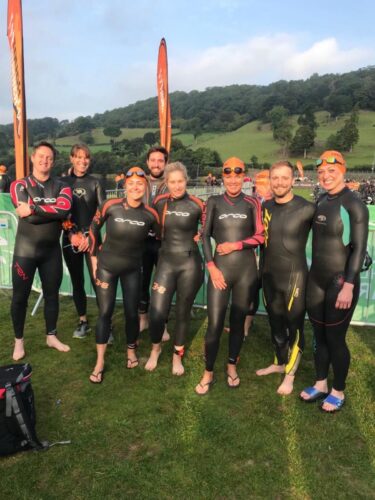 Apologies  with regard to table format and to Colin for the order.
| 463 | Entrants | | | | |
| --- | --- | --- | --- | --- | --- |
| POS | 21 | 52 | 61 | 261 | 168 |
| Forename | Rhian | Laura | Rebecca | Janet | Colin |
| Surname | Roxburgh | Fairhurst | Comins | Wyles | Caisley |
| CLUB | GOG TriClub | TTT | Dragon Tri | TTT | TTT |
| CATEGORY | VF40-49 | VF40-49 | VF50-59 | VF50-599 | V40-49 |
| CATPOS | 1 | 3 | 1 | 8 | 53 |
| SWIM | 23:04 | 26:28 | 30:01: | 34:32 | 36:45 |
| SWIMPOS | 7 | 30 | 103 | 225 | 287 |
| T1 | 00:49 | 02:01 | 01:04 | 02:14 | 03:41 |
| T1 POS | 4 | 131 | 16 | 169 | 350 |
| BIKE | 01:01:06 | 01:07:22 | 01:07:25 | 01:16:02 | 1:10:36 |
| BIKEPOS | 22 | 67 | 69 | 217 | 120 |
| T2 | 01:00 | 01:12 | 01:09 | 01:04 | 01:59 |
| T2 POS | 110 | 185 | 161 | 131 | 363 |
| RUN | 45:18 | 47:45 | 47:01 | 01:00:07 | 47:25 |
| RUNPOS | 82 | 128 | 114 | 342 | 123 |
| TIME | 02:11:19 | 02:24:48 | 02:26:41 | 02:54:01 | 02:40:27 |