There's only one Nicky Mowat!  Whilst runners chose various runs yesterday to prepare for the WRF Half Marathon pacing. Our golden girl jetted in to Paris practice under race  conditions.
Great pacing Nicky! Her report and photo's are here:
PARIS HALF MARATHON 5TH SEPTEMBER 2021
 Moses Kibet      59'42" – course record
Betty Lampus      65'46" – 1st woman
Marion Lauret     2h 00.17
Nicky Mowat.       2h 00.18. 6h VF60
25,000 runners
 Eighteen months ago I came to Paris to do the half marathon which was cancelled the day before because of covid.  So when it was rearranged back in March we decided to give it another go. 

The front runners started two hours before us so were able to see them finish which was of course very exciting.
The course took the participants on a tour of the most popular neighbourhoods of eastern Paris, sandwiched between the city and nature. From the tarmac of the Île Saint-Louis to the green  of the Bois de Vincennes and its château, we had a great view (if we  were looking up!) of many of the French capital's iconic monuments. The newly renovated Place de la Bastille was the beating heart of the 2021 edition, giving runners the chance to pound its cobblestones as they went under the finish arch for the first time since the creation of the race in 1993.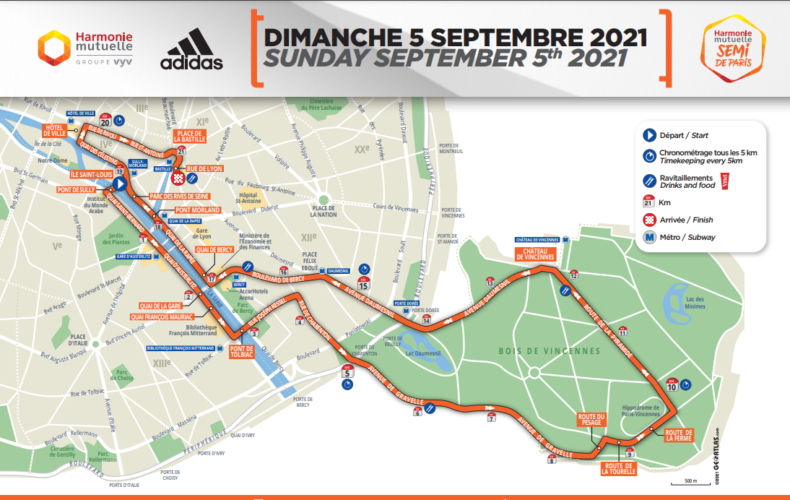 We didn't start until 10.30 as all the runners were very well spaced out because of covid which actually worked well. However we did fight for space in the shade and the showers provided by hoses.
I paced Marion who wanted to finish in 2 hours.  We started out at a steady 5 min 30 sec/k which was slightly ahead of a 2 hour finish.  Even though Marion was struggling from about 15k and we walked parts – Marion wasn't impressed with the fact that we went through tunnels so had to get up a few hills – we crossed the line in exactly 2 hours.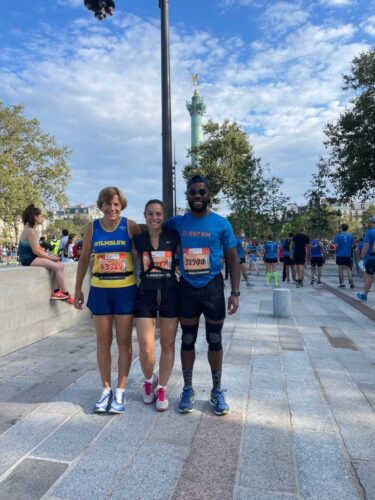 The atmosphere was fantastic, I felt like it was a marathon (but was glad it wasn't).  There were motivating bands and supporters along most of the route and refreshments every 6k.  Pacing at the Wilmslow half next week will be rather different than supporting just two runners.  A lesson I learnt was that I should have had jelly beans to give her.  It's so long since I've done a half marathon , I've forgotten the ropes!
Nicky