I received this the other day – Ironically whilst I was typing the don't get injured article!  James would like it distributed so here it is:
////////////////
After many injury setbacks over the last 2 years, I need to make some changes.  I'm not hanging up my running shoes quite yet, but I am switching clubs.  Why? Well quite simply I have to listen to my body and it is telling me that hitting the road is something I have to minimise.  Let's go back in time…
Last July shortly after running a 10k PB in the Alderley Edge bypass, the dreaded Achilles reared its ugly head, again.  I had just returned to form after fighting back from a rolled ankle the previous October that had put me out for another 4 months.  Here we go again I thought, I backed right off and did all the stuff I had learnt previously but I wasn't making progress.  After physio and nearly 6 months I was close to making a return.  Out of the blue whilst sat at work and even though I had not made a return to running, I started suffering agonising pain just above my left hip.  An x-ray later and I was told the news it was mild Arthritis.  Having previously battled both Glandular fever and Cancer, I am used to setbacks.  I did wonder if I could still run and considered quitting but I don't quit easily.  After more physio, I felt ready to return to running again (thanks to physiofit).  I started doing some runs on my own to build some base fitness, no speed work, I still haven't done any serious training since last June.  The feedback from my Achilles was positive which was great news, whereas my hip was giving me different results.  After running on the road, the hip would tell me about it the following morning, whereas it seemed generally happy when hitting the fells or trails.
I had plans last year to do more fell running but injury stopped me before I got started.  I had even done a course with Dave the fellrunningguide (top bloke).  I've never considered myself a hill runner, having started in 2014 just running on flat hard terrain.  My eyes were certainly opened wide during Sunday runs with Stuart, Bob, Damo and the gang.  It quickly became my favourite run of the week and I was determined to try and improve my hill running.  If I'd known in 2014 how much fun the off-road is, I would have set on a different path.  However, I saw the light in the end.  One of my mates Nigel was looking for a club, and he has always loved the fells. I spotted that Macc Harriers had a dedicated fell running group on a Wed night.  We decided to try it out 6 weeks ago or thereabouts.  We turned up at Rainow at 7pm in the pitch black not quite knowing what to expect in terms of distance, elevation, numbers, etc.  We could have picked any Wed, and we chose one where they had previously decided to run double the distance they usually would.  So, in the dark (I had a head torch with a pathetic lumens, my error), the hard core 3, plus the 2 of us set off.  The rain had been constant for weeks, so the ground was very boggy.  I was hanging off the back, struggling with the effort having only recently returned to some light running, but somehow I covered 18k and 800m elevation. When I got home, I had nothing, the tank was empty, less energy than when I had completed an Ironman.  In a sadistic sense, I loved it.
Before I could try some more, another setback.  I went to bed and woke up in agony, a nerve was pinched in my upper back and I've now been diagnosed with radiculopathy and seeing a neurologist shortly.  Snakes and ladders…  Go to jail do not collect £200… etc.
So I'm still out injured and waiting, patiently, kind of, for another chance to return.  I may have to call it quits at some point and focus on cycling, but I'm not there yet.  However, I am listening to the hip and the desire to focus more on fells and trails so that is the no.1 reason to change.  You may agree or disagree, have more scars and war wounds than I do, but all I can say is that I'm the only one that knows my own aches and pains, and I have to try and minimise them.
If there was one thing I would have liked to see change at the club, it is the support/communication for the injured.  There has been a lot of talk in the press regarding mental health in the last couple of years in particular, and aptly, now during this coronavirus.  I'm not saying I fit into that category, however, it is not always easy to know who does or doesn't without reaching out.  I had raised something last Dec and Andy made an impassioned mention of it during his annual club update at the Christmas party.  Unfortunately, nothing changed and I don't recall anything for a long time.  I see a lot of keep on running, which is fine for those that are running, but nothing for those that are not.  I'm raising this on behalf of all the injured and not just myself.  I know it is not always easy to have empathy for the long-term injured unless you have experienced it yourself.  Anyway this is only a personal observation that hasn't impacted my decision, and maybe I'm in the minority, you can't please everyone all the time.
I know a lot of volunteering is required to support the running of the club, and WRC has a solid group of volunteers, with Nick in particular, whom does more for the club and athletics than anyone I have ever met.  I've always helped at our 1/2 marathon since joining on both Sat and Sun, and was down to help this time until I was hit with the latest and current injury.  It was gutting to miss it but even more to see it postponed, albeit we haven't even seen the worst to come yet in this country or others.  I'm still happy to help assuming I'm not injured at the time.
In terms of races in the blue and gold, there are a couple of races that are a personal highlight.  There was the Forest 5 a couple of years back where I was third counter behind Rich and Pete I think, a tough race but I ran as hard as I could, until the final short hill towards the finish line where I lost one place to a MH and was annoyed at myself for not digging in more.  The other was XC at Wythy, year before last where I somehow squeezed in to the top 4 counters.  I know we were missing some of our best runners, but I felt strong that day.  Then of course came the twisted ankle and end of XC season just as it started!  Best overall result was a top 10 and age group winner at the inaugural Quarry Bank trail, possibly my only top 10 finish.
Outside of the club, I was immensely privileged to be chosen as 1 of 24 winners from 60,000 applicants to run for one of 6 teams from around the world to compete on the longest day of the year around Mount Blanc.  Each team had 3 pros and 3 amateurs.  Only 2 of the teams beat the sun, Europe Central in 2nd and our team Europe North in 1st, we also broke the previous record!  There were 13 legs, 2 each except one pro that ran 3.  An incredible experience I'll never forget and can be viewed on youtube if you search for Beat The Sun 2016.  A 1 minute version and a 20 minute version.
The next few months, maybe more, are going to be tough for us all, some more than others.  Whatever happens, I hope to see you out in the fells and trails before the year is out, possibly at least 2 metres, or a Richard Osman away (he is 2m tall).   It will also mean I am running again.  The odds are possibly against but sometimes you have to bet against them.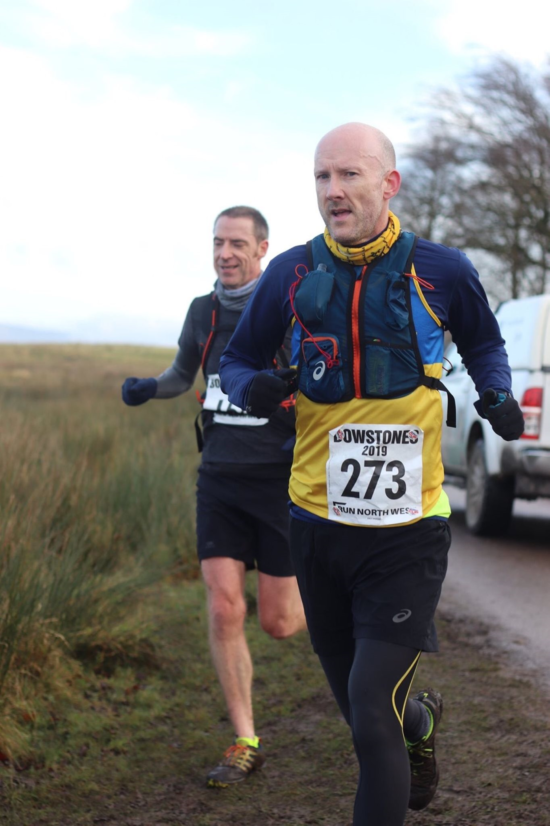 But now with the current lockdown we all are in  Looks like it will be  a while before we are all out again. Gives me time to recover from latest injury