Wilmslow Running Club Members were out in force marshalling at the MACCL Match 4 at Tatton Park on Saturday.
Nick was poorly Friday but Malcolm was there most of the day preparing for Saturday. Both were there Saturday and were joined by a large number of our members including: Rob, some Ians, Chris, Jan, Roy, some James's, Pauls and Colins, Patrick, Tom, Catherine, Laura, NickB. Peter? Too many to count or remember, especially as we had some do early marshalling and then run in their race! Some taking Pictures too: AndrewC, NickJ, Laura and various other – pictures on FB. Some will appear on the web when results are published.
I thought Nick was struggling for marshals and wasn't too bothered by the hold ups on the way there: 2 Christmas tree collection vans, queues in Knutsford, car drivers needing to talk to the gate attendant at the park entrance, others seeming to argue about where they were being sent to park!! But on parking up and changing into my marshals outfit, finding the meeting point; I was greeted by a scrum of volunteers desperate to claim a marshals spot! It was like New Years eve at a busy bar trying to get a drink at five minutes to midnight with only one bar tender. I was contemplating having to drive home or go for a kip in the car as it seemed all slots were being paired and seemed all taken when the lady organiser turned around and offered me the last slot – 13! Unlucky for some? People behind me tripled up and a Peter asked to pair with me at slot 13.
Off we went. Peter was obviously an experienced volunteer I realised. He chatted to another organiser and suggested we dismantled our portion of the course when the last runner had gone! Doh! The Organiser said realising he hadn't mentioned that to everyone at the briefing! Peter diligently walked the course towards our spot. Pointing out what he saw were good bits and bits that could have – in his opinion – been better. Giving advice to other marshals as we passed their posts!!
We settled at post E to watch the youngsters loop around it. Peter gave them advise where to stand and what to do with the posts and tape when the first race was over as the course would change. A couple of Macc Senior Officials came to watch! Mr Macc inspected the route through the trees, picking up any branch he considered a risk and, on finding a hole, chose to stand on it so the kids would have to run round him!! Mrs. Macc just shook her head and made excuses for him!
Quite a few runners and parents were walking the course. One grumpy dad was muttering about the condition of the course! Not even! Could break your ankle!! Mutter, mutter. We decided his daughter was a track runner and ignored him. The juniors ran, there seemed hundreds of them all snaked out [Actually it was about 140!]. I wasn't sure that some of the ones at the back had bought into cross country. Perhaps they 'had' to run it!
Race 1 over, off to spot F. Passing other Wilmslow marshals. Peter offering his advice to Rob! Rob didn't look that lively. He was suffering from cold/flu since Christmas – but would be running! I stopped off at Paul and Matt's station and watched the next race loop around leaving Peter and a dog walker to continue their walk. Matt wouldn't be running having knackered his back at the Handicap run and going running afterwards! He looked like he was in pain all day. I then took a short cut to the next loop point and met up again. After one loop of the next race it was a quick hop along a bridge to our spot – H!
We had a great view from here.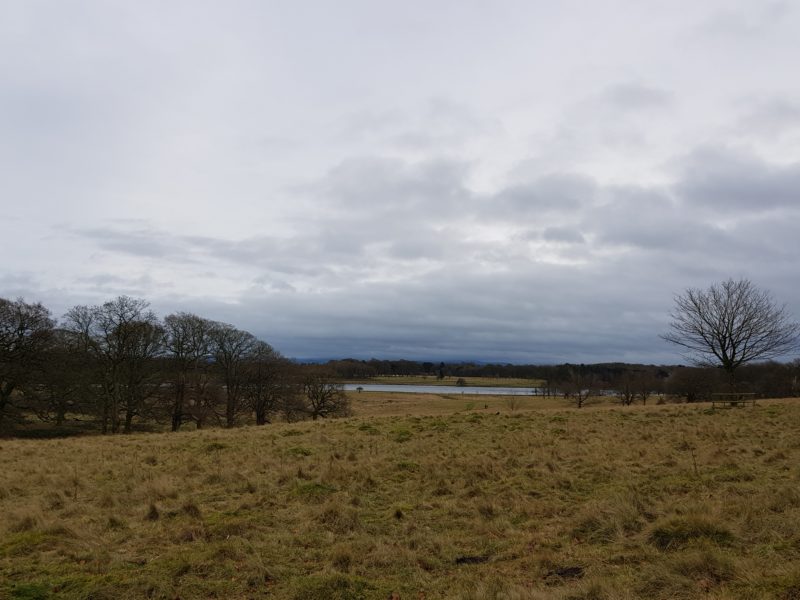 The deer appeared in the trees below a couple of times. This was an interesting spot as we had to direct runners straight on or down the hill dependent on what race it was and what lap! Numerous runners were coming and asking about the route. Obvious if they'd read the course beforehand! Adding to that Peter's dog walking friend, spectators and dog walkers kept our interest going between the races.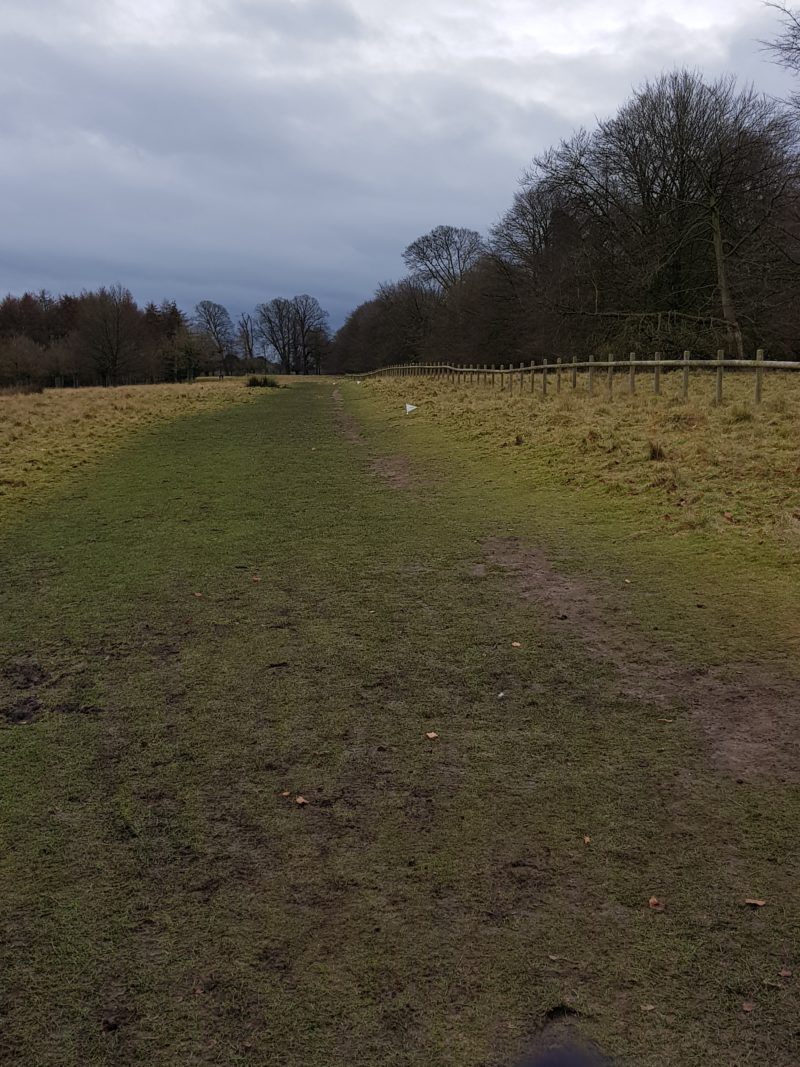 After guiding the first race – going past us -we had a runner brought back up the hill by a spectator. He needed walking back to the start. Our dog walker companion volunteered as we were busy with runners coming round the corners! Noticed the difference in numbers for the U17s! Didn't appear to be that many. In the later races we had one lady and two male seniors climb the hill back to retire – but neither wanted any help – just directions for the quickest route. Malcolm appeared checking out the course he laid out on Friday with Nick. Another suffering from a cold.  looks like we might suffer today with people sick and runners marshalling.
The races came, my flask emptied! Will need a bigger one if I ever do it again! Sani and chocolate finished. Still hungry! We had a good turnout for the Ladies.  Ian joined them. Nice to get an early finish when you get to a certain age and so good at not getting lapped too.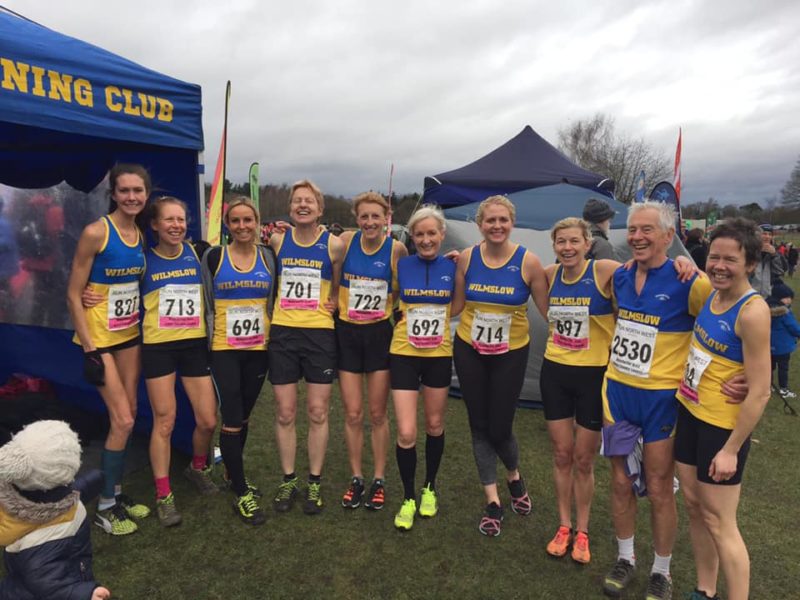 So we encouraged the Ladies and Men around, especially the stragglers! Chided the chatting ladies at the back. Cheered our runners whilst trying to take photos – that wasn't successful. There were 328 ladies and 478 men!! There were a few stragglers in both categories. We had one contentious moment – really needed VAR here. A Sale and a Knutsford Tri runner approached us and looked like squaring up. The Tri accused the Sale runner of pushing him over trying to get past him. I'm not sure he wanted him DSQ'd or not. But with no Red or Yellow cards on us, after a bit of handbags, we managed to quell the situation and the Tri runner – not happy – let the other guy get ahead. Not knowing what happened – but now remembering the Sale runner as someone who had barged past me a couple of times at Stretford parkrun to finish in front of me – I could sympathise with him.
Eventually the last runner came and informed us he was the last. So packing up, course dismantling. On the way back runners were cooling down and complementing the event. Course, parking and facilities. Other Club members waiting for the runner to pass them. Chris stretching his twinging back! 5 hours standing does challenge desk workers posture!
Got Back. Dropped off our stakes, sign and pegs. Time for a Coffee. And home – could do with a snooze. Quite tiring all that fresh air and cheering!
Results not yet out! The Ladies came 2nd in the Open category but in the Vets Ladies they Ruled, the men came second pipping Sale!!
Provisional:
Senior Ladies – 69 Teams:
1st Sale Harriers Manchester     32
— 1 Hannah Brown; 2 Sophie Wood; 9 Catriona Walsh; 20 Fiona Whybrow
2 Wilmslow Running Club     74
—   6  Diane McVey;  10  Nicola Reece;  25  Rebecca Jackson;  33  Sharon Johnstone
3 Macclesfield Harriers & Ac     89
18 Wilmslow Running Club     'B'   336
—  41 Louisa Harrison 74 Janine Ellis 100 Diane Bygrave 121 Sally Gilliver
Senior Men – 62 Teams
1st Sale Harriers Manchester   107
—5 Nicholas Barry; 13 Nathan Harrison; 17 Alex Bradford; 22 Kenneth Hunt; 23 David Rich; 27 Gareth Raven
2 Salford Harriers & AC   118
3 Chorlton Runners   147
12 Wilmslow Running Club   486
—20 Richard Coen;   55  Peter Speake;   68 Barry Archbold;   96 Rob Downs;   116 Jim Pendrill;   131 Andrew Whittingham
Vet Ladies Team – 69 Teams:
1st Wilmslow Running Club     21
— 2 Diane McVey;  4 Nicola Reece;  15 Sharon Johnstone
2 Sale Harriers Manchester     31
— 8 Hayley Ashby; 10 Anne Chinoy; 13 Emma Finney
3 Stockport Harriers & Ac     39
10 Wilmslow Running Club     'B'   111
—19 Louisa Harrison 35 Janine Ellis 57 Diane Bygrave
33 Wilmslow Running Club     'C'   327
—70 Sally Gilliver;  90 Tracy Bown;  167 Catherine Mellor   
Vet Mens Team – 57 Teams:
1st Chorlton Runners     53
— 1 Matthew Shaw; 13 Andrew Haney; 19 Ben McCormack; 20 Gary Scott
2 Wilmslow Running Club     70
— 2 Richard Coen; 15 Peter Speake; 21 Barry Archbold; 32 Rob Downs
3 Sale Harriers Manchester     71
15 Wilmslow Running Club     'B'   278
—47 Jim Pendrill; 55 Andrew Whittingham; 86  Tim Billington; 90 Malcolm Fowler
Category Placings
Ladies: Di McVey  – 1st V40; Nic Reece  – 3rd V35; Sharon Johnson  – 3rd V45; Louisa Harrison  – 4th V45; Janine Ellis –  2nd V50
Men: Richard Coen – 2nd V40; Rob Downs –  2nd V55