I'm Back!! 🙂
Hopefully no typos, missing or impersonating athletes this week. Past two reports updated to correct mistakes!
The end of the Summer Parkrun competition.
My plan for sun and recuperation failed dismally. Little sun and fitness centre out of bounds I was unable to even think about running Lyme Park as Achiles was more than troubling me. I woke up bleary eyed Saturday to see a white frost scene outside but managed to dress before I would have completed any parkrun. But for you other fit and rave runners.
There were 30 of our Club Runners run at 7 events.
Bramhall cancelled due to ice. So too was Sale and Heaton Park!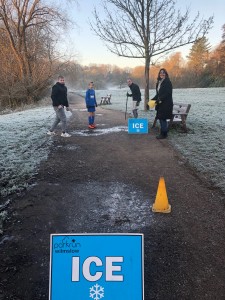 GrahamS may have dashed to Didsbury for a winter jog. Janine chose Cheadle.
The other singleton runner was IanS, home in York, with a brisk run. Doubletons ColinC and Laura back up north in Blyth. The weather may have been spartan but both PB'd with the same time – Colin being a gentleman letting Laura cross the line ahead of him. I hope the football result up there pleased tham both!
Jeremy left DiB to Wilmslow and went to Macclsfield to first time and pace daughter Ava up and down the hills.
A small pack of club runners were at Cheadle. RichardC romped home as usual, Barry second perdon home. The Johnstones, not travelling far at the moment, made an apperance – Sharon first lady home. Janine third lady home, Oliver not too far behind.
At bigger pack was at Lyme Park – where I had hoped to complete the series; I'd have a good view of the backs of my new group of runners I'll hope to chase someday. PaulG first Wilmslow runner home, not being cahse by the ther Paul who was basking in the spanish sun. The breakfast boys ChrisC and RichardHi jogged round together to work up an appetite. It was the 250th Parkrun for Chris – and he had a cold. IanA and Roy competed but had no improvements on their earlier runs – no doubt when the weather then was sunny and warm. With my target being 37 minutes I'd have been quite far behind.
Lastly at busy Wilmslow. Was it the Prosecco that drew them! Andrew was first club runner home, DiMcV was first lady home both with fast times. Andrews 19:00 just 1 second behind RichardC's! TrevorM not too far behind Di with another consistent fast time and an AG of 80.11% – just ahead of Robin. RichardHa pacing 20 minutes excelently just ahead of MikeH and JamesS – too cold to be photographer this week! Matt with his fastest run for 6 months, then GrahamD and DiB – third lady finisher. Jan again under 25 minutes, Mark getting fitter by the week, just ahead of Kathryn who getting her parkrun in before her weekend shop at Tescos!! TrevorF not too far off his best time at Wilmslow this year.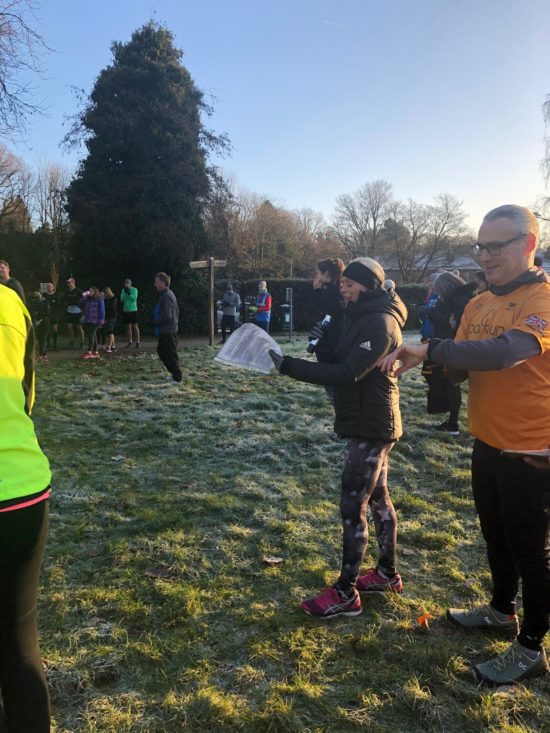 Summary:
Busiest: Blyth [295]; Quietest York [46];
Fastest: Male – Richard Coen [18:59]; female Di McVey [19:26]
Tourists: Colin and Laura [Blyth]
Performance of Note: Richard Coen, Di McVey and Sharon Johnstone [1st male and female finishers]; Trevor Morris [AG 80.11%]; Chris Cannon [250th Parkrun];and all who ran or volunteered on such a cold day
Apologies for any mistype, mistake or missing achievement.
Lyme Park parkrun
A total of 144 runners took part.
Cheadle Hulme parkrun
A total of 82 runners took part.
Wilmslow parkrun
A total of 267 runners took part.
New Earswick parkrun
A total of 46 runners took part.
Macclesfield parkrun
A total of 178 runners took part.
Fletcher Moss parkrun
A total of 263 runners took part.
Blyth Links parkrun
A total of 295 runners took part.