RESULTS for 2018
Apologies for late posting on here.  The provisional results are at www.race-results.co.uk/results/2018/wizard18.htm (the same site which took on-line entries).
If you spot any errors please let us know at Wizard5@wilmslowrunningclub.org
I will also be posting links to photographs here shortly.
UPDATE AT TUESDAY 10 JULY
We're looking forward to the WIZARD 5 race on Thursday 12th, proceeds going to the Stockport Cerebral Palsy Society.
REGISTRATION
Registration will be at the National Trust car park at Alderley Edge (on the Alderley Edge to Macclesfield Road, SK10 4UB) from 6:30 – just give your name and pick up your number.  If you have swapped numbers with someone please fill in a form.  The race will start at 7:30
PARKING
PLEASE CAR SHARE IF AT ALL POSSIBLE.  We have use of the National Trust car park (free for runners), but the race will be very full this year.  We can't park in the Wizard Inn grounds as the pub remains open for normal customers.
If the NT car park fills up you should park on public roads, which might mean driving some distance towards Alderley Edge.  Options are
–              On the Alderley Edge to Macclesfield road (B5087) on the right heading towards Alderley Edge.  There is a lay-by just after the NT car park, and another just before the speed-limit sign.
–              Parking is possible with care further along the B5087 towards Alderley Edge after the speed limit sign.
WATER
It will be hot, so bring plenty to drink.  We hope to set up an emergency water station at the entrance to Hare Hill, using disposable cups – please put your cup in the bin bags and don't litter the fields.
Andy Watts
Wizard 5
The Wizard 5 race will take place as usual in July this year, on Thursday 12th at 7:30pm.
The Wizard is race of about 5 miles on roads, paths and trails around Alderley Edge, starting from the Wizard National Trust car-park.
Further information will be posted here nearer to the race date, or contact us for any queries, at Wizard5@wilmslowrunningclub.org.
The Race, 2017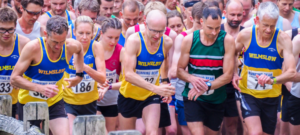 A warm sunny afternoon promised good running conditions, and looming dark clouds at the race start did not dampen the proceedings.
241 runners set off on the challenging course.  The overall winner was Fraser MacDonald-Oulds (Chorlton) in the very creditable time of 28:02, followed very closely by Steve McCarron (Sale Harriers) and Rob Downs (Wilmslow).  The girls were led home by Diane McVey (Wilmslow), with second place going to Louisa Whittingham (Macclesfield) and third to Helen Murray (Knutsford Tri Club).
The race has always benefitted from strong club support and this year was no exception, with Chorlton Runners and Macclesfield Harriers fielding large teams, and Bramhall, Wilmslow, Lymm and Sandbach not far behind.  First men's team was Wilmslow, followed by Macclesfield Harriers and South Cheshire Harriers.  For the women Chorlton Runners took top honours ahead of Macclesfield Harriers and Bramhall Runners.
Thanks are due to all the marshals from Stockport Cerebral Palsy Society, and all the helpers from Wilmslow, as well as the National Trust for permission to run around their excellent countryside, and Graham Fecitt for rapid results preparation.  Don Bullough took photographs at the event, which can be found on the Wilmslow Running Club Races facebook page.
Results.
Results are available at the Race-Results page.
Andy
2016 RACE REPORT
Thanks to everyone who ran or helped at the Wizard 5, which went well attracting a near-record 246 competitors.
The full results are available on the race-results site, and Bryan Dale's photographs of the event are on his  racephotos site (which also has some videos of the race).