A busy weekend for racing but there were still 22   members running at 10 parkrun events.
Busiest: Warrington [305]; quietest: Burnage [120].
Tourist: Lydia [Hampstead].
At Bramhall the two Pauls battled it out with PaulN finishing first this weekend. Might have rained a bit, but Chris our Open-Top tooting runner chose an enjoyable drive to Warrington. After 2 years, Jamie returned to run at Congleton. Also there was young Peter who first timed and   finished first with an unbelievable AG of 89.39%. Wow! Course Vet category record too.
Then again Peter the Indestructible first timed at Fletcher Moss with an AG of 79.71%. Finishing in under 30 minutes he now hols the Category Course record.
Huma took young Qes to Wythenshawe, possibly to get some XC practice in.  He almost equalled his course PB as he came in second – 3 seconds behind the first finisher. Huma had her fastest time there since 2013! Sharon and Oliver made an appearance at Burnage. Sharon first woman home. GrahamS popped up with a PB – 3 seconds quicker than his 2017 time. Only 5 more parkruns before he hits 200.
Tim and Rebecca went to the Alexandra Park event.  Tim came home 6th with an AG of 85.69%. Rebecca PB'd there with her fastest parkrun since 2020. Roy chose the new parkrun at Salford [Peel Park] and ran his fastest parkrun since 2020.
As usual Wilmslow had most members running – but a low number ran there. Still Jim put in a good time and achieved an AG of 80.58%;  Andrew put in a brisk run too. Gareth made an appearance – 90 seconds quicker than his August time after all his pacing long runs too! Nic couldn't quite get going and kept pacing  Richard company. Catherine turned up for her first parkrun in two years and went under 30 minutes easily. I made the mistake of setting off with the 32 minute pacer! 800 metre mark told me that. Still quicker than last time!  There were a number of helpers too: Don, Tracy, Andrew, GrahamD and Andy – John too!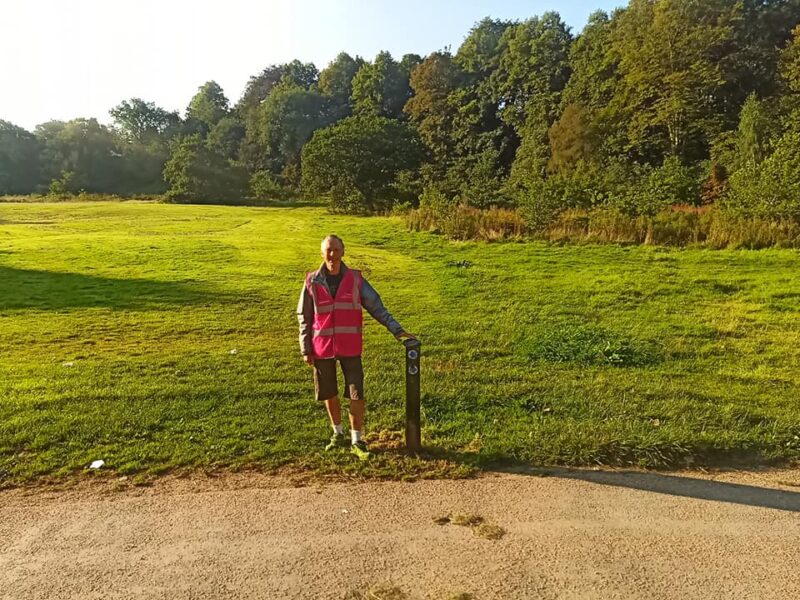 One thing about AGs we actually had 4 members who had top AG at their event: PeterS, Tim, Sharon and PeterW. Fantastic running.
Full results below:
Bramhall parkrun
A total of 266 runners took    part at Bramhall parkrun event #607
| | | | | |
| --- | --- | --- | --- | --- |
| Position     | Gender Position      |  parkrunner     | Club   | Run Time   |
| 2 | 1 | Paul SMITH |    U/a |           19:18 |
| 24 | 1 | Vickie DAVIES |    U/a |           21:33 |
| 26 | 24 | Paul NORRIS |    WRC |           21:39 |
| 30 | 28 | Paul GARNETT |    WRC |           21:56 |
Hampstead Heath parkrun
A total of 294 runners took    part at Hampstead Heath parkrun event #467
| | | | | |
| --- | --- | --- | --- | --- |
| Position     | Gender Position      |  parkrunner     | Club   | Run Time   |
| 2 | 1 | Patrick JARVIS |    U/a |           19:00 |
| 58 | 1 | Hannah YIP |    U/a |           24:01 |
| 154 | 26 | Lydia MERRETT |    WRC |           28:27 |
Warrington parkrun
A total of 305 runners took    part at Warrington parkrun event #339
| | | | | |
| --- | --- | --- | --- | --- |
| Position     | Gender Position      |  parkrunner     | Club   | Run Time   |
| 1 | 1 | Thomas MILLS |    U/a |           17:26 |
| 12 | 1 | Sarah DAVIES |    U/a |           20:53 |
| 91 | 79 | Chris CANNON |    WRC |           27:02 |
| | | | | |
Congleton parkrun
A total of 186 runners took    part at Congleton parkrun event #394
| | | | | |
| --- | --- | --- | --- | --- |
| Position     | Gender Position      |  parkrunner     | Club   | Run Time   |
| 1 | 1 | Peter SPEAKE |    WRC |           15:52 |
| 16 | 1 | Kirsty MCLEAN |    U/a |           21:15 |
| 82 | 63 | Jamie SMITH |    WRC |           27:22 |
Wythenshawe parkrun
A total of 283 runners took    part at Wythenshawe parkrun event #441
| | | | | |
| --- | --- | --- | --- | --- |
| Position     | Gender Position      |  parkrunner     | Club   | Run Time   |
| 1 | 1 | Miras ESKANDER |    U/a |           19:16 |
| 2 | 2 | Qes HUSSAIN |    WRC |           19:19 |
| 39 | 1 | Huma RAHMAN |    WRC |           23:33 |
| | | | | |
Burnage parkrun
A total of 120 runners took    part at Burnage parkrun event #404
| | | | | |
| --- | --- | --- | --- | --- |
| Position     | Gender Position      |  parkrunner     | Club   | Run Time   |
| 1 | 1 | James SAVAGE |    U/a |           17:16 |
| 5 | 1 | Sharon JOHNSTONE |    WRC |           20:29 |
| 6 | 5 | Graham SCREAWN |    WRC |           20:41 |
| 28 | 25 | Oliver Thomas JOHNSTONE |    WRC |           24:04 |
Wilmslow parkrun
A total of 175 runners took    part at Wilmslow parkrun event #273
| | | | | |
| --- | --- | --- | --- | --- |
| Position     | Gender Position      |  parkrunner     | Club   | Run Time   |
| 1 | 1 | James KNOCKTON |    U/a |           16:20 |
| 5 | 5 | Jim PENDRILL |    WRC |           18:27 |
| 8 | 8 | Andrew CLEAL |    WRC |           19:15 |
| 10 | 1 | Laura Elizabeth BARBER |    U/a |           19:57 |
| 37 | 30 | Gareth Fenton TRIMBLE |    WRC |           23:15 |
| 46 | 38 | Nic BOWN |    WRC |           24:06 |
| 47 | 39 | Richard HARRISON |    WRC |           24:07 |
| 106 | 25 | Catherine MELLOR |    WRC |           29:38 |
| 139 | 92 | Patrick GRANNAN |    WRC |           32:52 |
Fletcher Moss parkrun
A total of 223 runners took    part at Fletcher Moss parkrun event #77
| | | | | |
| --- | --- | --- | --- | --- |
| Position     | Gender Position      |  parkrunner     | Club   | Run Time   |
| 1 | 1 | Ismail HASSAN |    U/a |           18:45 |
| 9 | 1 | Amy WEYERS |    U/a |           20:48 |
| 156 | 99 | Peter WATSON |    WRC |           29:29 |
Alexandra parkrun, Moss Side
A total of 190 runners took    part at Alexandra parkrun, Moss Side event #25
| | | | | |
| --- | --- | --- | --- | --- |
| Position     | Gender Position      |  parkrunner     | Club   | Run Time   |
| 1 | 1 | Luc BURNIP |    U/a |           16:38 |
| 6 | 6 | Tim BILLINGTON |    WRC |           18:24 |
| 11 | 1 | Belinda BRENNAN |    U/a |           19:36 |
| 14 | 2 | Rebecca JACKSON |    WRC |           19:52 |
Peel parkrun
A total of 299 runners took    part at Peel parkrun event #3
| | | | | |
| --- | --- | --- | --- | --- |
| Position     | Gender Position      |  parkrunner     | Club   | Run Time   |
| 1 | 1 | Paul BAGAN |    U/a |           16:35 |
| 46 | 1 | Chloe ELLIOTT |    U/a |           21:57 |
| 189 | 137 | Roy POWNALL |    WRC |           28:29 |