I had an article penned for today! Then an eMail arrives!
As you the Sheffield Half Marathon is South Yorkshire's biggest event of its kind. 🙂
Thousands of runners of all abilities  take part.  With a city centre start and finish, a huge crowd  cheer participants out and back. The event boasts a stunningly scenic route with majestic views of the Peak District on the climb to Ringinglow. It  even incorporates a 'triple test' giving entrants a chance to be crowned Peaks Challenge winners in a timed hill climb, triumph in a times 10K downhill sprint section and cross the finish line first to lift the Sheffield Half Marathon title. And there's nothing like a challenge for JP. Well here's what he said:
A long time ago, my daughter Olivia asked me to run with her in the Sheffield half marathon, which she was doing to support Breast Cancer Now. It was an offer I obviously couldn't refuse, but as with all other races it fell victim to covid, but was subsequently rescheduled for last Sunday.
A ten day family holiday in Spain wasn't the ideal preparation. However on the credit side we managed some early morning training runs, but on the debit side we took full advantage of the excellent food and wine on offer in the area.
An early race start of 9am hopefully meant we wold avoid any real heat and as it was Olivia's first half marathon, and a hilly race, (total climb according to Strava above 1,000 feet), we targeted a time of between two hours and two hours 15 minutes.
The first five miles is basically uphill, then two miles of undulation, and the rest of the race mirrors my future running career, i.e. downhill all the way to the finish. We navigated the first hilly stretch ok and was on for a 2.05 finish. Cresting the hill near the moor at Ringinglow brought a welcome breeze and some relief that we had completed the hilly section.
At about 7 miles we came upon some runners who were bemoaning the fact that the guy dressed as a rhino had just ran passed them. Don't worry said I he will be extinct at 10 miles. This seemed to cheer them up.
Unfortunately the breeze dropped and the sun came out which meant we had to slow for the final 5k, but battled on to complete the course. It was a really well organised race with fantastic support from the people of Sheffield, although the good weather certainly helped in bringing the crowds out.
1st male                Andrew Heyes   Hallamshire Harriers       1.06.04 (course record).
1st lady                  Caroline Brock   Steel City Striders             1.23.27
Olivia and John Porteous              2.12.01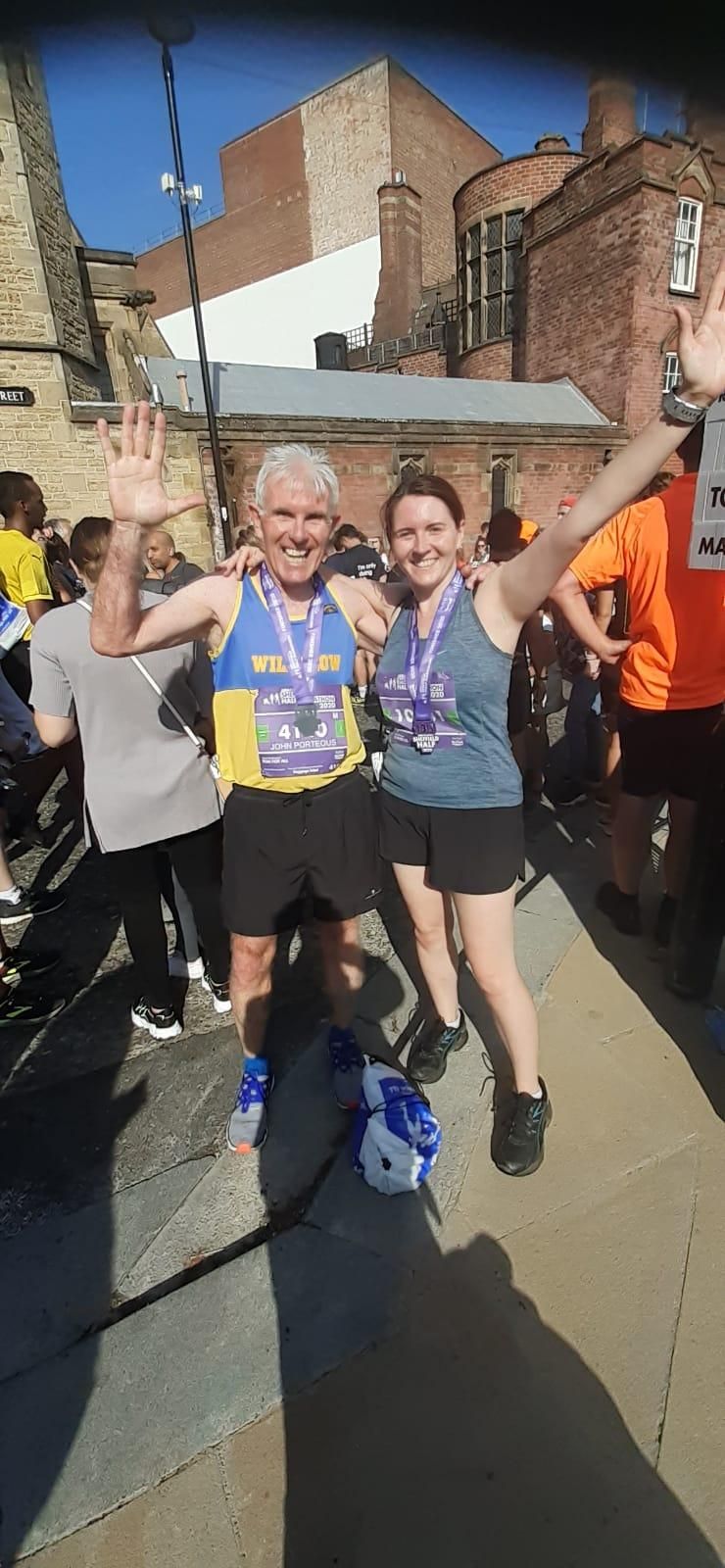 Official Results below
| POS. | NAME | CAT. | CLUB | Peaks Time | 10k Time | CHIP TIME |
| --- | --- | --- | --- | --- | --- | --- |
| 1 | Andrew Heyes | MS | Hallamshire H | 05:50 | 29:07 | 01:06:04 |
| 44 | Caroline Brock | FS | Steel City Striders | 07:19 | 37:37 | 01:23:27 |
| 2715 | Olivia Porteous | FS | | 11:09 | 03:01 | 02:12:03 |
| 2716 | John Porteous | MV60 | WRC | 11:10 | 03:01 | 02:12:01 |
| 3792 | Runners | | | | | |