30 runners this week.
Busiest: Stretford [374]; Quietest [but busy!] Cheadle[109].
Tourists: Nicky [London]; Jeremy [Wales].
With John saving himself for Sheffield, Alan took the old boys out for a run at Alexandra Park. He was a few seconds slower than his Pb, but don't-stop-me-now IanA PB'd by over 90 seconds. Coach Roy  was a few seconds quicker than his previous time. Another PB was at Stretford, where young Qes was fifth to finish 100 seconds faster than his 2018 PB.
Fun runner Ava took dad Jeremy for Saturday leg-stretcher in Conwy. The Breakfast Boys went to Wythenshawe. RichardHi ran another quiclish time; and Chris was much better than last week
IanS was back (again) at Cheadle, either looking after his joints or getting ready for the XC season. Don took a week off from volunteering and ran his first parkrun this year. Possibly other XC practice was at Marple. AndrewG and RichardL turned up; Angie chose the hills this week. Richard knocked over 30 seconds off his PB.
GrahamS and PaulN were back at Bramhall with reasonable times. Janine also ran – it was quickest time there this year.
Lady Mo, down in London for a visit to the Palace – and possibly to get in her Christmas Shopping early – PB'd her 2018 time and had an AG of 85.63%!!
A busy Wilmslow witnessed a class show by Peter-the-Great. His PB improved by 4 seconds and he had an AG of 87.19%. Jim, Andrew and RichardH finished 4-5-6, with Mike 9th making it 5 out of the first 9 home. Jarrod and Allan were just over 20 minutes. Jim had an Ag OF 80.72% Richard had his fastest time there this year. For Jarrod it was the first run since 2019. Allan was glad not to be child-minding!!
Rebecca was second lady home. GrahamD , for some reason, gave everybody at least 20 seconds start! Tracy's first parkrun this year -well for 2 years actually -and with an impressive79% AG. Hopefully she will remain injury-free going forwards towards her 5th run. Nic – Mr. Consistent – was a little behind.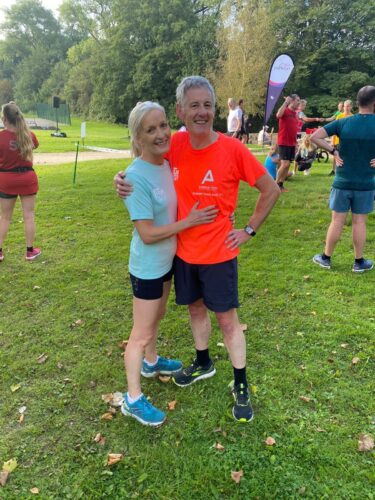 Hipperty, attempted the Run-Walk-Jog-Walk approach again. For some unknown reason it ended up being just a run [all 5k]. Last Non-Stop achieved in March!
PBs: IanA, Qes, RichardL, Nicky, Peter
80+% AGs:  Peter [87.19%]; Nicky [85.63%] and Jim [80.72%]
Apologies if I have missed anyone!
Results below.
prun18thsep
https://www.parkrun.com/results/consolidatedclub/?clubNum=2262&eventdate=2021-09-18
30 runners.
Busiest: Stretford [374]; Quietest [but busy!] Cheadle[109].
Tourists: Nicky [London]; Jeremy [Wales].
Bramhall parkrun
A total of 290 runners took at Bramhall parkrun event #606
| | | | | |
| --- | --- | --- | --- | --- |
| Position   | Gender Position   | parkrunner   | Club   | Run Time   |
| 1 | 1 | Carl KRYSTEK |    U/a |    00:17:58 |
| 6 | 6 | Graham SCREAWN |    WRC |    00:20:03 |
| 16 | 1 | Hayley SIMPSON |    U/a |    00:20:53 |
| 30 | 28 | Paul NORRIS |    WRC |    00:22:16 |
| 38 | 2 | Janine ELLIS |    WRC |    00:22:41 |
Wythenshawe parkrun
A total of 337 runners took at Wythenshawe parkrun event #440
| | | | | |
| --- | --- | --- | --- | --- |
| Position   | Gender Position   | parkrunner   | Club   | Run Time   |
| 1 | 1 | Dan ANNISON |    U/a |    00:18:21 |
| 3 | 1 | Martha COYLE |    U/a |    00:19:08 |
| 31 | 25 | Richard HIRONS |    WRC |    00:22:36 |
| 116 | 80 | Chris CANNON |    WRC |    00:26:57 |
Marple parkrun
A total of 202 runners took at Marple parkrun event #423
| | | | | |
| --- | --- | --- | --- | --- |
| Position   | Gender Position   | parkrunner   | Club   | Run Time   |
| 1 | 1 | Joe MERCER |    U/a |    00:17:14 |
| 16 | 15 | Andrew GIVEN |    WRC |    00:20:55 |
| 26 | 1 | Ria HARRISON |    U/a |    00:21:45 |
| 33 | 30 | Richard LAWSON |    WRC |    00:22:13 |
Fulham Palace parkrun
A total of 296 runners took at Fulham Palace parkrun event #343
| | | | | |
| --- | --- | --- | --- | --- |
| Position   | Gender Position   | parkrunner   | Club   | Run Time   |
| 1 | 1 | Ben WALKER |    U/a |    00:17:16 |
| 23 | 1 | Lily BAYLEY |    U/a |    00:20:30 |
| 79 | 12 | Nicky MOWAT |    WRC |    00:23:19 |
Cheadle Hulme parkrun
A total of 109 runners took at Cheadle Hulme parkrun event #242
| | | | | |
| --- | --- | --- | --- | --- |
| Position   | Gender Position   | parkrunner   | Club   | Run Time   |
| 1 | 1 | Matt DARNLEY |    U/a |    00:19:02 |
| 15 | 1 | Anneke CROSBY |    U/a |    00:23:25 |
| 26 | 23 | Ian SMALLWOOD |    WRC |    00:24:51 |
| 78 | 49 | Don BULLOUGH |    WRC |    00:31:58 |
Conwy parkrun
A total of 281 runners took at Conwy parkrun event #270
| | | | | |
| --- | --- | --- | --- | --- |
| Position   | Gender Position   | parkrunner   | Club   | Run Time   |
| 1 | 1 | Jonathan GORINGE |    U/a |    00:16:06 |
| 26 | 1 | Lizzie IRVINE |    U/a |    00:21:52 |
| 67 | 57 | Jeremy BYGRAVE |    WRC |    00:24:17 |
Wilmslow parkrun
A total of 198 runners took at Wilmslow parkrun event #272
| | | | | |
| --- | --- | --- | --- | --- |
| Position   | Gender Position   | parkrunner   | Club   | Run Time   |
| 1 | 1 | Peter SPEAKE |    WRC |    00:16:16 |
| 4 | 4 | Jim PENDRILL |    WRC |    00:18:25 |
| 5 | 5 | Andrew WHITTINGHAM |    WRC |    00:18:55 |
| 6 | 6 | Richard HARRISON |    WRC |    00:19:12 |
| 9 | 9 | Mike HILL |    WRC |    00:19:48 |
| 13 | 13 | Jarrod HOMER |    WRC |    00:20:13 |
| 15 | 15 | Allan MCCORMICK |    WRC |    00:20:20 |
| 18 | 1 | Kristy GILL |    U/a |    00:21:06 |
| 20 | 2 | Rebecca JACKSON |    WRC |    00:21:14 |
| 29 | 27 | Graham DUCE |    WRC |    00:22:49 |
| 35 | 4 | Tracy BOWN |    WRC |    00:23:12 |
| 42 | 36 | Nic BOWN |    WRC |    00:23:55 |
| 162 | 102 | Patrick GRANNAN |    WRC |    00:33:49 |
Stretford parkrun
A total of 374 runners took at Stretford parkrun event #226
| | | | | |
| --- | --- | --- | --- | --- |
| Position   | Gender Position   | parkrunner   | Club   | Run Time   |
| 1 | 1 | James WIGNALL |    U/a |    00:16:10 |
| 5 | 5 | Qes HUSSAIN |    WRC |    00:17:41 |
| 11 | 1 | Katherine FITZPATRICK |    U/a |    00:18:30 |
Alexandra parkrun, Moss Side
A total of 185 runners took at Alexandra parkrun, Moss Side event #24
| | | | | |
| --- | --- | --- | --- | --- |
| Position   | Gender Position   | parkrunner   | Club   | Run Time   |
| 1 | 1 | Rob HARRISON |    U/a |    00:16:43 |
| 19 | 1 | Alison REID |    U/a |    00:19:53 |
| 50 | 40 | Alan Charles TURNER |    WRC |    00:22:58 |
| 83 | 63 | Ian ASHCROFT |    WRC |    00:25:26 |
| 128 | 77 | Roy POWNALL |    WRC |    00:29:18 |