Apologies – yet again. The Wilmslow Running Festival has taken a lot of my time recently. And it is ongoing too!! I'll try and catch up over the week.
Parkrun last  on Saturday  [4th!] saw WRC  record breakers out again!
At Bramhall Barry was second-  second week on the trot! PaulG won the Paul Bragging Rights. But star was Peter – first timing; an AG of over 75% and now holds the VM80 Category Record. Brilliant Peter.
JP showed Alan a thing or two at South Manchester. Whilst at Wythenshawe, maybe getting herself ready for XC, Super Kate PB'd  by over 100 seconds and with an  AG of 83.17%! Wow the girl is flying. Pipping Altrincham Bev.
Angie ran locally and had her quickest Post-Covid time there. Richard PB'd by 5 seconds at Burnage. Further afield near Bodmin,  Rebecca was first woman to finish there.
The Hills were alight with the sound of the Bygrave's family stomping around the course, Di was first Woman finisher. Whilst Ava paced Jeremy around. Annabelle took it easier. Ian set the V75 course record. Roy cheered him on from a far.
Colin was joined by Oliver on the grassy Cheadle course. No doubt Colin was taking it easy before the GNR. It was his 3rd run there in the last month.
Janine was in Yorkshire- not quite Going Ape. An interesting varied course saw her complete her fastest parkrun run this year. The breakfast king chose to dine in this week  as he first timed in Northwich. Shazza's. That just leaves Wilmslow. Breakfast Diner scored 10 out of 10. Carolyn, the course expert, paced Sharon around. It was Sharon's first Parkrun since 2019. A mini report from Chris:
I am happy to report I won my age category!!. But please no congratulations. A year ago I would have been disappointed with a time over 26 mins, currently my goal is to finish. But I had to check that firstly nobody in an older age category had run faster than me and secondly I wasn't the only runner in my age category, to avoid a hollow victory. And pleased to say it wasn't a hollow victory.
But it was a close run race, I managed to beat young Mrs Linda May by a few seconds, Linda is in the 75-79 age category running her 54th Park run with a pb of 26.48. She came in 3 seconds ahead of Mr Barry May who running his 81st Parkrun with a pb of 25.57. Barry is in the 80-85 age category. Linda 27.52 and Barry 27.55.
Then I came across young Joe Park in the results, Joe running his 75th parkrun with a pb of 29.39 in a time of 32.21. Now, wait for it, Joe is old enough to be my Dad. He is in the 85-89 year age category.
Another first  timer – Rob – tried out the newly created parkrun at Ambleside. Organisation-wise it was a bit frantic. However, Rob cruised around with a AG of 85.27% and the VM55 category record
That just leaves Wilmslow.
Jim was second home a few seconds behind a youngster. Richard, Mike and Di cruised around in a pack. Di finishing first woman. Jim's Ag was 81.68% and Di's 81.03%
Steve PB'd for the third time on the trot. This time by almost half a minute. Graham was a few seconds behind. Further back Nic ran his fastest parkrun this year. So did hipperty-hopperty who shrugged off the cynical fan's remarks at the top of the running club hill 😊. And Colin, running as pacer, ran his 450th parkrun.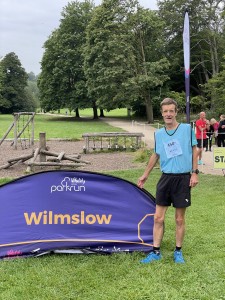 Busiest Event Stretford [477]! Quietest Cheadle [78].
PBs: Kate; Steve;
Course Age Category times set by: Peter; Rob, Ian
Bramhall parkrun
A total of 296 runners took part at Bramhall parkrun event #604
| | | | | |
| --- | --- | --- | --- | --- |
| Position   | Gender Position   | parkrunner   | Club   | Run Time   |
| 1 | 1 | Tom CLARK | U/a |   17:52 |
| 2 | 2 | Barry ARCHBOLD |   WRC |   18:25 |
| 5 | 1 | Clara JARVIS | U/a |   19:37 |
| 24 | 21 | Paul GARNETT |   WRC |   21:41 |
| 27 | 24 | Paul NORRIS |   WRC |   21:47 |
| 200 | 157 | Peter WATSON |   WRC |   30:09 |
South Manchester parkrun
A total of 337 runners took part at South Manchester parkrun event #520
| | | | | |
| --- | --- | --- | --- | --- |
| Position   | Gender Position   | parkrunner   | Club   | Run Time   |
| 1 | 1 | Ged MCGRATH | U/a |   17:09 |
| 28 | 1 | Emily IRELAND | U/a |   19:43 |
| 132 | 98 | John PORTEOUS |   WRC |   24:55 |
| 148 | 106 | Alan Charles TURNER |   WRC |   25:30 |
Wythenshawe parkrun
A total of 311 runners took part at Wythenshawe parkrun event #438
| | | | | |
| --- | --- | --- | --- | --- |
| Position   | Gender Position   | parkrunner   | Club   | Run Time   |
| 1 | 1 | Mark COLLIER | U/a |   17:30 |
| 14 | 1 | Georgina MILBURN | U/a |   20:59 |
| 41 | 3 | Kate SUTTON |   WRC |   22:41 |
| 51 | 6 | Bev JACKSON |   WRC |   23:18 |
Marple parkrun
A total of 247 runners took part at Marple parkrun event #421
| | | | | |
| --- | --- | --- | --- | --- |
| Position   | Gender Position   | parkrunner   | Club   | Run Time   |
| 1 | 1 | James GARNER | U/a |   18:06 |
| 19 | 1 | Jo EGGEMAN | U/a |   21:50 |
| 56 | 6 | Angela MCCARTHY |   WRC |   24:48 |
Burnage parkrun
A total of 150 runners took part at Burnage parkrun event #401
| | | | | |
| --- | --- | --- | --- | --- |
| Position   | Gender Position   | parkrunner   | Club   | Run Time   |
| 1 | 1 | Will KERR | U/a |   17:21 |
| 8 | 1 | Belinda BRENNAN | U/a |   20:46 |
| 14 | 11 | Richard LAWSON |   WRC |   21:46 |
Lanhydrock parkrun
A total of 274 runners took part at Lanhydrock parkrun event #323
| | | | | |
| --- | --- | --- | --- | --- |
| Position   | Gender Position   | parkrunner   | Club   | Run Time   |
| 1 | 1 | Harry SMITH | U/a |   17:28 |
| 30 | 1 | Rebecca JACKSON |   WRC |   24:02 |
Lyme Park parkrun
A total of 139 runners took part at Lyme Park parkrun event #317
| | | | | |
| --- | --- | --- | --- | --- |
| Position   | Gender Position   | parkrunner   | Club   | Run Time   |
| 1 | 1 | Robert WHITE | U/a |   19:47 |
| 22 | 1 | Diane BYGRAVE |   WRC |   24:32 |
| 51 | 43 | Jeremy BYGRAVE |   WRC |   27:12 |
| 78 | 56 | Ian ASHCROFT |   WRC |   30:06 |
| 115 | 70 | Roy POWNALL |   WRC |   35:56 |
Cheadle Hulme parkrun
A total of 78 runners took part at Cheadle Hulme parkrun event #240
| | | | | |
| --- | --- | --- | --- | --- |
| Position   | Gender Position   | parkrunner   | Club   | Run Time   |
| 1 | 1 | Billy MCCARTNEY | U/a |   18:30 |
| 9 | 1 | Laura BELL | U/a |   23:25 |
| 17 | 15 | Colin WALTON |   WRC |   24:46 |
| 39 | 30 | Oliver Thomas JOHNSTONE |   WRC |   29:56 |
Wilmslow parkrun
A total of 211 runners took part at Wilmslow parkrun event #270
| | | | | |
| --- | --- | --- | --- | --- |
| Position   | Gender Position   | parkrunner   | Club   | Run Time   |
| 1 | 1 | Lee SZYMANSKI | U/a |   18:05 |
| 2 | 2 | Jim PENDRILL |   WRC |   18:12 |
| 6 | 6 | Richard HARRISON |   WRC |   19:18 |
| 7 | 7 | Mike HILL |   WRC |   19:19 |
| 9 | 1 | Diane Elizabeth MCVEY |   WRC |   19:25 |
| 15 | 14 | Steve REYNOLDS |   WRC |   20:33 |
| 17 | 16 | Graham DUCE |   WRC |   20:39 |
| 50 | 45 | Nic BOWN |   WRC |   23:44 |
| 194 | 122 | Patrick GRANNAN |   WRC |   37:00 |
Dalby Forest parkrun
A total of 189 runners took part at Dalby Forest parkrun event #210
| | | | | |
| --- | --- | --- | --- | --- |
| Position   | Gender Position   | parkrunner   | Club   | Run Time   |
| 1 | 1 | Andrew KAUFMAN | U/a |   17:46 |
| 12 | 1 | Sarah HUNTER | U/a |   21:15 |
| 28 | 3 | Janine ELLIS |   WRC |   22:41 |
Northwich parkrun
A total of 236 runners took part at Northwich parkrun event #112
| | | | | |
| --- | --- | --- | --- | --- |
| Position   | Gender Position   | parkrunner   | Club   | Run Time   |
| 1 | 1 | James WEBSTER | U/a |   18:04 |
| 7 | 1 | Katie BROUGH | U/a |   19:58 |
| 91 | 75 | Chris CANNON |   WRC |   27:34 |
| 154 | 41 | Sharon Louise JONES |   WRC |   31:11 |
| 155 | 42 | Carolyn Ann HIRONS |   WRC |   31:12 |
Rothay Park parkrun
A total of 82 runners took part at Rothay Park parkrun event #13
| | | | | |
| --- | --- | --- | --- | --- |
| Position   | Gender Position   | parkrunner   | Club   | Run Time   |
| 1 | 1 | Jonathan ESCALANTE-PHILLIPS | U/a |   16:39 |
| 7 | 7 | Rob Harry DOWNS |   WRC |   18:20 |
| 15 | 1 | Izzy WHITE | U/a |   22:55 |
"https://www.parkrun.com/results/consolidatedclub/?clubNum=2262&eventdate=2021-09-04"