There were a number of our members dashing all over the county this weekend.  Or seeking out Nessie!
Not to mention the Mid-Cheshire 5k on Friday. Hence fewer runners this weekend.
At 6 Parkrun Events we had 20 runners out on Saturday. Best run of the day possibly was by Rob who not only PB'd but was first to finish at Wythenshawe.  Keeping it in the family Franky PB'd by almost a minute.
Sole runner Oliver chose Congleton. Regulars Ron and a lonely PaulN at Bramhall. As usual Rob hit over 80% AG [83.56%].
The Breakfast boys were joined by a number of runners at Cheadle. Graham was second finisher with a PB by almost a minute.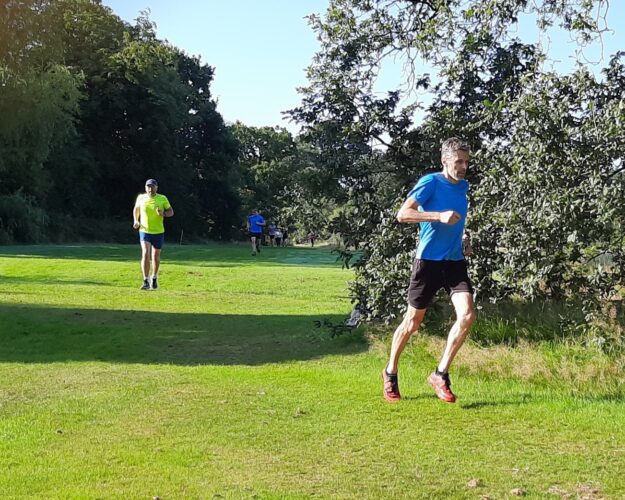 Alan and John chose Alexandra to run. It was a first time for John and his fastest this year. Alan's return here after 2 weeks was a minute slower.
A quiet Wilmslow saw Di cruise run round and come home first lady with an AG of 80.68%. Then our Men had finishes 2,3 and 4. Young Sam leading home James who pipped AndrewC.
IanS had his first run this year there and wasn't too far off his previous time in Feb 2020. It was also his fastest this year as was Nic's time. Hipperty, arriving late tried a Jog/NHS Week1 fartlek. Watch failure too – but psychologically he's claiming  just under 40 minutes!! He got some encouraging shouts, but some cruel ones near the end!! 😊
Bramhall parkrun
A total of 303 runners took part at Bramhall parkrun event #603
| | | | | |
| --- | --- | --- | --- | --- |
| Position   | Gender Position   | parkrunner   | Club   | Run Time   |
| 1 | 1 | Jonathan CURRIE | Unattached |   00:17:08 |
| 7 | 7 | Rob Harry DOWNS |   WRC |   00:18:18 |
| 20 | 1 | Sara-Nicola BARRON | Unattached |   00:20:36 |
| 33 | 30 | Paul NORRIS |   WRC |   00:21:34 |
Congleton parkrun
A total of 230 runners took part at Congleton parkrun event #390
| | | | | |
| --- | --- | --- | --- | --- |
| Position   | Gender Position   | parkrunner   | Club   | Run Time   |
| 1 | 1 | Didier NUTTALL | Unattached |   00:17:10 |
| 34 | 1 | Gemma TREDWELL | Unattached |   00:22:52 |
| 52 | 46 | Oliver Thomas JOHNSTONE |   WRC |   00:24:22 |
Wythenshawe parkrun
A total of 251 runners took part at Wythenshawe parkrun event #437
| | | | | |
| --- | --- | --- | --- | --- |
| Position   | Gender Position   | parkrunner   | Club   | Run Time   |
| 1 | 1 | Rob JACKSON |   WRC |   00:16:58 |
| 8 | 1 | Isobel HALL | Unattached |   00:20:03 |
| 41 | 4 | Frances JACKSON |   WRC |   00:22:52 |
Cheadle Hulme parkrun
A total of 91 runners took part at Cheadle Hulme parkrun event #239
| | | | | |
| --- | --- | --- | --- | --- |
| Position   | Gender Position   | parkrunner   | Club   | Run Time   |
| 1 | 1 | Gareth N R GRIFFITHS | Unattached |   00:17:32 |
| 2 | 2 | Graham SCREAWN |   WRC |   00:20:11 |
| 6 | 1 | Samantha JONES | Unattached |   00:21:20 |
| 13 | 3 | Sharon JOHNSTONE |   WRC |   00:22:09 |
| 15 | 12 | Richard LAWSON |   WRC |   00:22:28 |
| 25 | 20 | Richard HIRONS |   WRC |   00:24:30 |
| 29 | 23 | Colin WALTON |   WRC |   00:25:04 |
| 48 | 37 | Chris CANNON |   WRC |   00:28:05 |
Wilmslow parkrun
A total of 183 runners took part at Wilmslow parkrun event #269
| | | | | |
| --- | --- | --- | --- | --- |
| Position   | Gender Position   | parkrunner   | Club   | Run Time   |
| 1 | 1 | Robert SIMPSON | Unattached |   00:16:48 |
| 2 | 2 | Samuel BAILEY |   WRC |   00:18:27 |
| 3 | 3 | James SPEEDIE |   WRC |   00:18:43 |
| 4 | 4 | Andrew CLEAL |   WRC |   00:18:47 |
| 6 | 1 | Diane Elizabeth MCVEY |   WRC |   00:19:30 |
| 35 | 32 | Ian SMALLWOOD |   WRC |   00:23:31 |
| 39 | 35 | Nic BOWN |   WRC |   00:23:56 |
| 173 | 113 | Patrick GRANNAN |   WRC |   00:43:56 |
Alexandra parkrun, Moss Side
A total of 197 runners took part at Alexandra parkrun, Moss Side event #22
| | | | | |
| --- | --- | --- | --- | --- |
| Position   | Gender Position   | parkrunner   | Club   | Run Time   |
| 1 | 1 | Thomas SHAW | Unattached |   00:16:37 |
| 30 | 1 | Zulma EDMONDSON | Unattached |   00:21:03 |
| 56 | 48 | Alan Charles TURNER |   WRC |   00:23:40 |
| 69 | 57 | John PORTEOUS |   WRC |   00:24:31 |