Well it was Friday Night with The Movies over at Kingsley.
Having broken his record several times already these last few months, he chose x, after last's weeks visit to Pendle – billed as the World's fastest course.
If groups have groupies who adore and follow them – what do runners have? Well Peter The Great is blessed with some wannabee Runnies who followed him there to see if some magic PB would rub off on them.
We know this race is one of the fastest in Cheshire. So what happened. Well ..
Massive congratulations should go to the new course record holder Kate Holt who won in a staggering 15:28 which makes her 2nd on the 2021 UK rankings and joint 7th on the all time UK rankings over 5k. Interesting that the City Of Stoke Club had the Bypass 10k last week.
So our guys?  It goes without saying that Peter broke his record by another 6 seconds. Sub 15 must be on the horizon next. The rest? well that magic dust must have spread a bit.  Tim knocked 10 seconds of his PB and Qes 20 seconds. Dan and Richard missing out.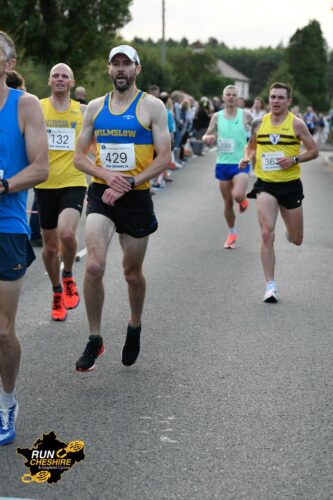 Full results of the Wilmslow runners below:
| Pos | Runner | Club | Time | Gen | Cat | CatPos |
| --- | --- | --- | --- | --- | --- | --- |
| 1 | Adam Craig | Inverclyde_AC | 13:48 | M | SM | 1 |
| 31 | Peter Speake** | WRC | 15:01 | M | V45 | 2 |
| 46 | Katie Holt | City Of Stoke Ac | 15:28 | F | SnrF | 1 |
| 53 | Daniel Bundred | WRC | 15:35 | M | SM | 41 |
| 61 | Richard Coen | WRC | 15:43 | M | V40 | 5 |
| 120 | Qes Hussain* | WRC | 16:32 | M | SM | 81 |
| 213 | Tim Billington* | WRC | 17:44 | M | V55 | 1 |
| 485 | Runners | | | | | |
**: Wilmslow All Time Record and PB
*: PB