A new Race HQ and start for the RNW Bypass 10k and there was a drizzly start for both runners and helpers. The grounds had a massive car parking capacity for arriving runners. Ice creams and coffee and food seemed to be available.. Most of the early traffic came from the Congleton end and traffic management was easy – if wet! Then the Wilmslow cars approached and it got over-busy a few times.
A look at our runners.
Nicky, having returned home from a nice vacation with  an accreditation in form-filling, and having found a place to park her bike, ran her first race since lockdown. It was also her first 10k since 2018. As usua,l wonder woman had an excellent time and with a category first too. That leads on to our elite Peter. He's not the Peter TheGreat like PeterS, he's a bit more like Peter Pan. Never seeming to age. His first run since 2019 and his first 10k since 2018. Like Nicky he was a category first. 7th fastest 10k time for his age group this year in PowerOf10.
Other Category firsts were Ian who seems to be on a new level this year [employing a new minder by the look of it].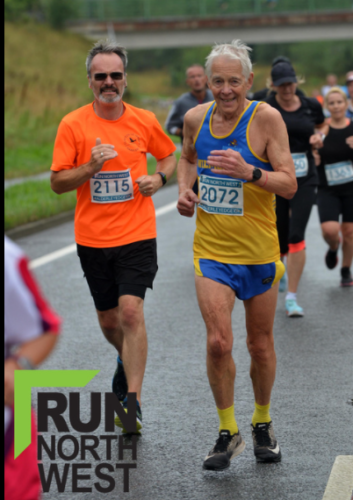 Tim,  who PB'd – and has constantly got faster at 10k year on year;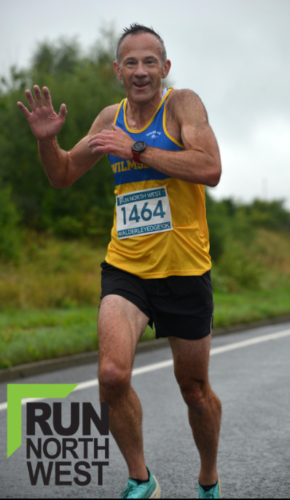 and Di [Don't mess with me] who knocked a few seconds of the Summer Wilmslow 10k time..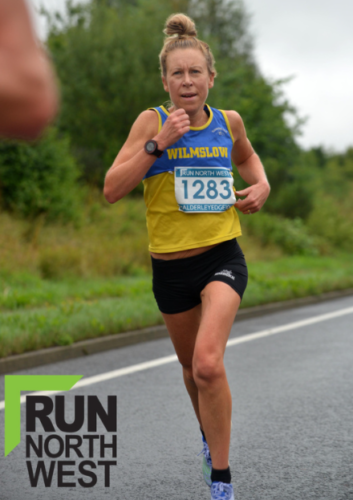 Other Category top 3 finishers were: Paul (2nd); Janine and Trevor (3rd). Frankie – just missed out in 4th
We had a number of helpers and pacers at the event. For pacing: Richard, showboating, finished dead on the gun time. Alan kept to chip time for his 1:05.
The less able [leg-wise] were given the north gate on the main road  to manage – furthest from Race HQ. And had to march down the main road to alert drivers of a road closure.
Centurion Chris manned the gate with his  usual strong presence and ability to speak and sign with Lorry Driver dialect; and having some time to chat up local Cheshire Housewife Tanya [?]with his diversionary chatter.  A bit of trouble was caused by traffic from Wilmslow wanting to stop and let the Congleton traffic in. Ignoring the hard-working marshals and causing more delays with confused drivers. These were mainly Wilmslow Runners!!! 😊 Gareth tail ran-walked-jogged with a guy who had hip, hamstring and ankle problems – I might have given him a race for his money. Don, I know the quickest way back, arranged for my shoes to be cleaned. Pity about my wet socks!!
Results for all Wilmslow runners below.
| Posn | Runners | Club | Chip | Gen | Gen Pos | Cat | CatPos |
| --- | --- | --- | --- | --- | --- | --- | --- |
| 1 | David Barratt | Salford_Harriers | 0:30:18 | M | 1 | Snr | 1 |
| 34 | Emma Taylor | City Of Stoke | 0:34:00 | F | 1 | V35 | 1 |
| 61 | Tim Billington | WRC | 0:36:41 | M | 57 | V55 | 1 |
| 74 | Andrew Cleal | WRC | 0:37:38 | M | 70 | V40 | 12 |
| 81 | James Speedie | WRC | 0:38:04 | M | 76 | V35 | 18 |
| 92 | Diane McVey | WRC | 0:38:38 | F | 7 | V40 | 1 |
| 130 | Richard Coen | WRC | 0:39:51 | M | 116 | V40 | 19 |
| 200 | Paul Norris | WRC | 0:43:13 | M | 178 | V60 | 2 |
| 236 | Frances Kenney | WRC | 0:44:07 | F | 28 | V40 | 4 |
| 240 | Janine Ellis | WRC | 0:44:10 | F | 27 | V50 | 3 |
| 355 | Nicky Mowat | WRC | 0:47:11 | F | 41 | V60 | 1 |
| 372 | Colin Walton | WRC | 0:47:36 | M | 324 | V55 | 23 |
| 430 | Nic Bown | WRC | 0:49:10 | M | 371 | V55 | 28 |
| 480 | John Porteous | WRC | 0:50:14 | M | 408 | V65 | 8 |
| 625 | Ian Ashcroft | WRC | 0:54:02 | M | 498 | V75 | 1 |
| 870 | Peter Watson | WRC | 01:01:18 | M | 643 | V80+ | 1 |
| 945 | Alan Turner | WRC | 01:04:47 | M | 674 | V55 | 63 |
| 1041 | Trevor Faulkner | WRC | 01:13:03 | M | 708 | V75 | 3 |
| 1096 | Runners | | | | | | |
Full results here