An interesting 5k has been suggested by Richard Harrison.
This is a flat 5km route as a parkrun substitute then I've worked out "The Smokehouse and Newgate 5".
Start at the bus stop at the far end of Sandy Lane – immediately at the end of Sandy Lane at the Morely Green end.
Run clockwise out towards the Smokehouse, no cutting corners into Morley Green Road, Altrincham Road, Nansmoss Lane, Sandy Lane
Then cut through the track [half marathon finish] onto to Racecourse Road, right to Newgate Lane,  and run the length of Newgate Lane. **
Note: start on the opposite side of the road from the bus-stop then keep on that side of the road all the way around the loop until I need to cross that road to go up Sandy Lane.
No roads to cross and hardly any dog walkers.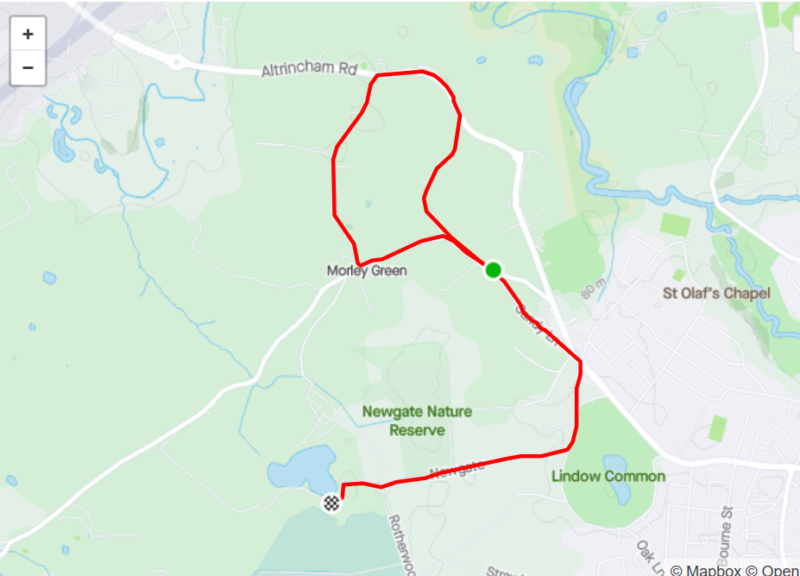 The only thing to clarify is the actual finish. Dan and Jan have both finished slightly after Richard's finish – but they did take off the corner at Morley Green Road. Richard stopped after the bend at Rossmere and didn't do the straight section to the car park.  We'll let Richard clarify that!
Markus and Richard ran it Sunday. at 19:20 Richard led young Markus home!  Looks like we might be able to set up a handicap league on that course. 🙂