With the government giving you freedom (in England) to exercise as much and as often as you liked. How did it go?
Jan has got back on her bike and popped out to brick it to the works with birthday boy Tim. That was after doing a 5k time trial around our Carwood road circuit in 23:49! What a flyer!!
David Attenborough's understudy has made use of the additional time outs to encounter: goldfinches, hares (some hopping) , alpacas and a Welsh badger face; as well as Rattling the cage with a kingfisher, goldfinches and Canada goslings; and spotting bullfinches, goldfinches, yellowhammers, buzzards, whinchats. All while rattling Cages and visiting Black or Wind gathered rocks around Derbyshire. Before adding buzzard, swallows, greylag geese and great Crested Grebes to his list followed by lapwings, long-tailed tits in the air and garlic and butterbur on the ground. Rumour of him seeking out elephants He may have gone deer hunting with daughter but the rumours of the Elephant run may be fake news! However he has missed his Scottish Isalnds Peak race this week. Which he had fond memories: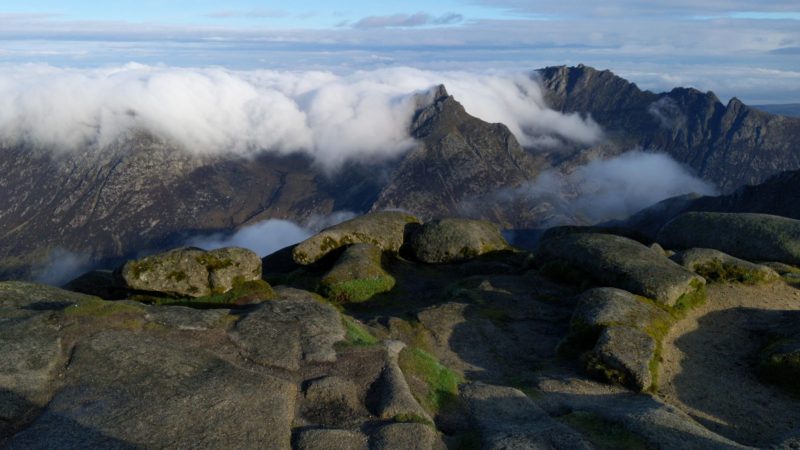 The club has worries that he may be poached by Countryfile!  Moving on swiftly!
Last week Daniel – with some long outings around Leeds -joined the WRC Strava leader board splitting Rob and RichardC. Damian split Rob nad GrahamS on Hill ascent.
Jules has been doing her weekly Middlewood Way loop. I paid the price of the 2 mile run the previous Saturday – been sore ever since
Matt has tried morning runs with afternoon bike activities to prepare him for a family cycle outing. Mick has been doing some bike rides as an alternative from his morning runs
Meanwhile Gareth Hs taking Elspeth out for a run.
Laura must be losing wight as she is light enough now to virtually cycle across water!
Tim's birthday week saw him run over the Edge and having runs with/along RichardH and the Bygraves! Inspired by Rob he has started his I-Spy book off with Geese and Goslings! Then paced himself for 5k with some alpacas.
Paul visited the track for his Tuesday reps before dragging his son out for a run later that week. GrahamS  almost lost his head with an argument with a Stile.
Rebecca managed to dodge cow pats and frolicking lambs as she ran Bollin valley in reverse. Jarrod eased himself back with a swim and a peddle.
Others out and about were AndrewC , Richard C, JonathanD, PaulGRobinH, MarkB.
Don – I think – won the Wilmslow Parkrun quiz night again.  Trevor is still in isolation. Nicky has been able to wear something other than lycra and sports shorts – being able to add tennis and golf to her schedule.
Last week WRC Strava leader board pretty usual: Rob, Peter and Richard in terms of mileage; in terms of running time – Laura split Rob and Richard;  and Climbing Damian and Graham trailed Rob again!  This week, to date,  Jill is tying with Damian as joint 4th!
That's all folks .. though with football trying decide whether to play again I read that in Seoul …
However, not many clubs will be rushing to follow the example of FC Seoul.
The top-flight South Korean side has apologised after fans accused them of using sex dolls in the stands.
FC Seoul insisted they were "premium mannequins" rather than sex dolls – but did admit they came from a supplier that produces sex toys.
And some of the dolls were holding signs advertising x-rated websites – despite pornography being banned in South Korea….!!!
On Sunday, FC Seoul played their first home match of the K League season.
The ground was empty – one of many measures designed to prevent a Covid-19 outbreak.
So before the match, a company called Dalcom offered to fill some of the empty seats, and the club agreed.
In total, there were 30 mannequins – 28 of them female, and two of them male.
However, fans watching online noticed that some of the mannequins looked more like sex dolls – and some were advertising x-rated websites – leading to the club apologising on Instagram and Facebook.
🙂