This week Mark Crossland has been kind to tell us about his favourite races. I only have one other response – that's less than 5% of club members!  Can I have  a few more articles from you runners- please!! 🙁
Now over to Mark  – thank you ! – for his interesting take on marathons::
////////////////////////////////////////////////////////////////////////////
Thought I'd drop you an article for the website given the continued lockdown and no Leeds matches to keep us entertained!!
I've done some fantastic races over the years, so difficult to pick a favourite. It probably wouldn't be a marathon given the slog of training and then the pain of those 26.2 miles (particularly the last 10), so rather than favourite race I thought I'd share with you my favourite medal. There aren't many of these around, less than 7,000 people have completed all 6 Marathon Majors to date, and I was one of the first 600 to complete them in 2016.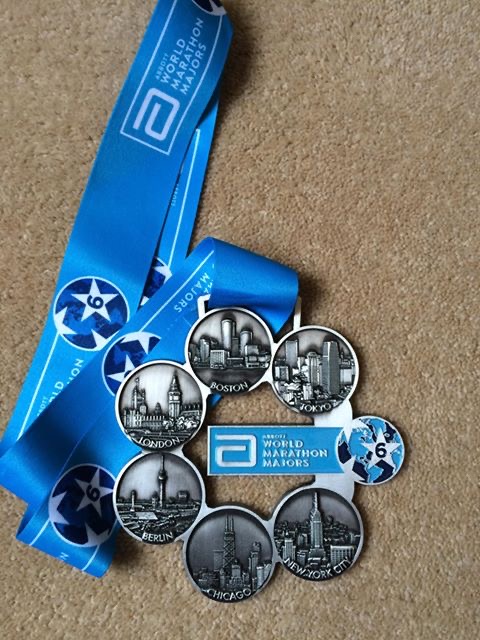 It started back in 2013 when I entered the New York marathon. I had just gone through separation / divorce and was about to get made redundant from the Co-op Bank after almost 25 years service. Not in a good place I started running again after a gap of roughly 9 years. I thought I'd do something on my bucket list and so entered the NY marathon. I took both my boys, and my mum and dad went too, we had a week in NY which was absolutely fantastic. The race itself was brilliant ….
It starts on Staten Island so the first mile and a bit is over the Verrazano Bridge into Brooklyn, then on to Queens, Manhattan, and The Bronx before returning to Manhattan and finishing in Central Park. Though the race was in November, it was blue skies and sunshine all the way. Perfect running conditions – although pretty windy crossing the various bridges which made it tough going at times. The crowds were amazing, it was the first big marathon after the Boston bombing (April 2013) so there were plenty of people out supporting, and as you'd imagine there was also a lot of security at the start, finish and during the race.
I met a couple of people at the NY marathon, Rob and Sacha, both have become good friends. A few weeks after the marathon we went out for a celebratory meal in Manchester. Sacha and I had both got places in the 2014 London marathon through the ballot, and after a few drinks all three of us agreed to enter the 2014 Berlin marathon held in September.
In April 2014 and I ran the London marathon. This was my 3rd London marathon having previously run it in 1996 and 2001. Again it was perfect running conditions, blue skies and sunshine. For me London is the best marathon, the crowds and the iconic landmarks make it so especially running across Tower Bridge, then finishing down The Mall and past Buckingham Palace, you can't beat it.
Whilst at the Expo at London I got chatting to the guys at the Sporting Tours stand about the Boston Marathon. As I am a fairly slow runner there is no way I could get a qualifying time, which is a pre-requisite for Boston. However overseas travel partners can get a limited number of places without the need for a qualifying times. Sporting Tours get around 30 places, so I put my name on the list for 2015. (Note that since the Marathon Majors have increased in popularity I don't think this is quite as easy now).
Then in September 2014 I ran the Berlin marathon. Although enjoyable it's not my favourite Major, the German crowds just aren't quite as enthusiastic as the British and US!! One interesting point about the Berlin marathon is that they have an inline skating marathon on the same course the day before, so that was fun to watch.
The following year in April 2015 I completed the Boston marathon. Such an iconic marathon, it didn't disappoint, and I absolutely loved the city, so much so that I went back with my partner for a holiday there a couple of years ago. Two weeks before this marathon I suffered a knee injury, it was pretty painful and there was a doubt I would be able to run 26 miles. However, I knew this opportunity might not come around again so I dosed up with ibuprofen for those 2 weeks and literally ran through the pain. I always had in my mind that I might have to walk a significant part, so every mile completed was a bonus. The weather didn't help, it was around 3 degrees and rained and sleeted the whole way round, one of the coldest on record. Ironically the previous year had been one of the hottest and many runners had suffered in the heat!!! I managed to run and hobble the whole way, mighty relieved to finish.
Later that year, in October 2015, I ran Chicago. I wasn't particularly looking forward to it, not knowing anything about the city, so this was purely to tick off my 5th Major. However in the couple of weeks prior to the marathon two different people told me it was their favourite US city, so I thought maybe it will be better than I was expecting. And so it turned out to be. A great place, with lots of history and things to see and do. And also the home of the best popcorn in the world!! The marathon itself was all around the city, fairly flat, and well supported. However, it was very warm , approaching 20 degrees for the 7.30am start, it was mid 20's by the time I finished.
And so on to Tokyo, February 2016, what an amazing place and experience. I went with Sacha and Rob (Sacha and I did all 6 marathons together), we went for 11 nIghts arriving a week before the marathon. We stayed in a hotel within walking distance of the start of the marathon. It happened to be the same one that all the elite runners were staying at; and because we were there early they allocated our rooms on the same floor as them. So every time we left our rooms we would bump into some elite runners either going for a meal or going out for a run. We met the Race Director who was also staying at the hotel, really friendly guy. Japan is a brilliant place, the people are very polite and law abiding, everything runs efficiently and in an orderly manner, and there is very little crime. We spent the week before the marathon sight seeing, and then ran in the International 5k fun run on the Saturday, hardly the best prep for a marathon!! 🙂 But for me, when you go all that way you want to experience as much as possible, the marathon is almost secondary. The course is pretty flat, with a couple of loops returning on the same road, and is fairly well supported – although I had no idea what they were shouting!! After the marathon we went to the presentation where I bumped into Eliud Kipchoge, the London marathon winner for the last 2 years, marathon record-holder and first man to run a sub 2 hour marathon.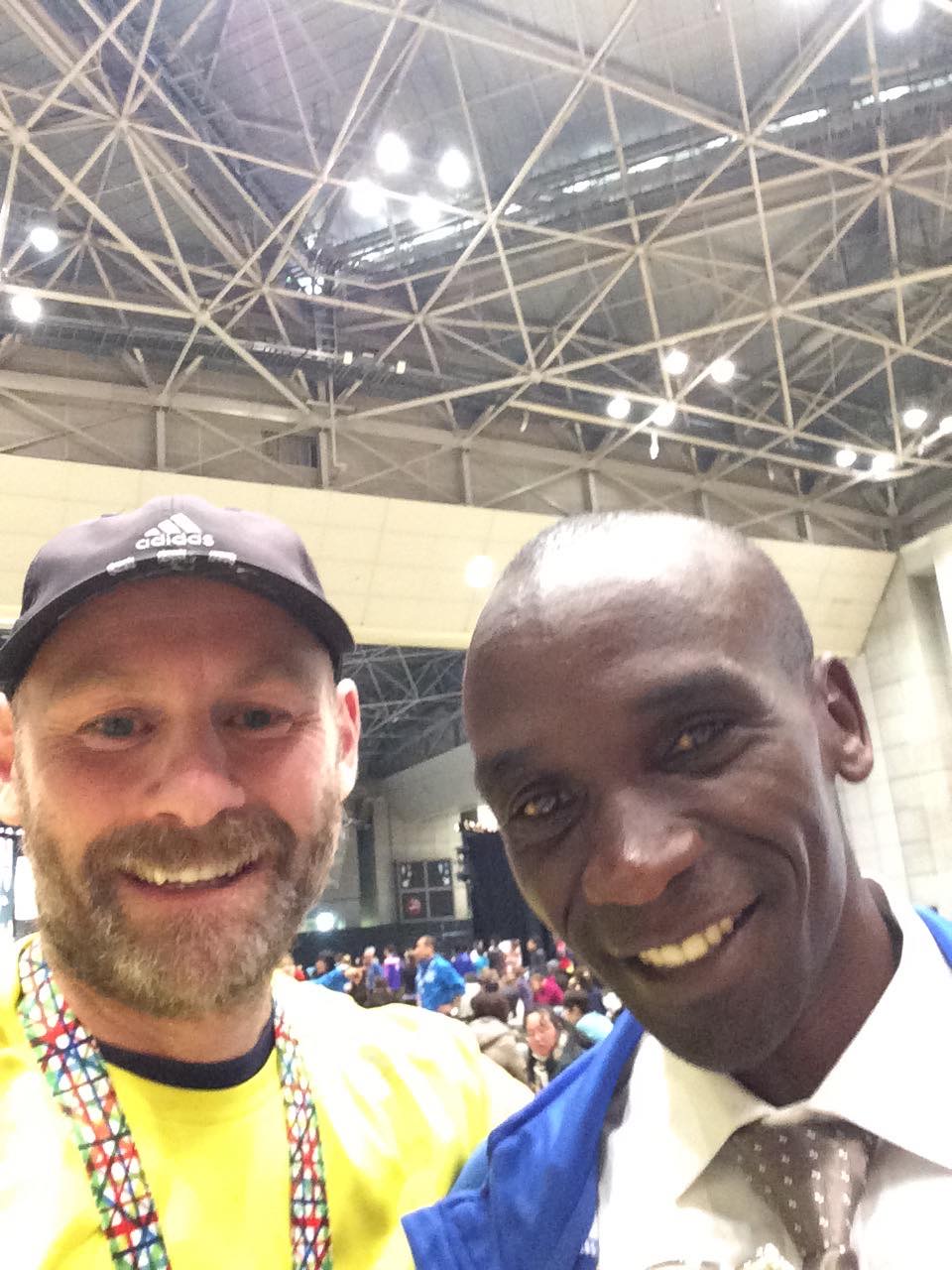 The day after the marathon we moved onto Hiroshima for a few days before returning home.
For the record my marathon times aren't spectacular: quickest was London in 3:57:57 and slowest Tokyo in 4:22:52.