Well with panic shopping,  people avoiding masses and the Wilmslow Running Festival. Nnumbers were down this week. At 7 parkrun events we had 14 club runners.
Only 3 club runners at Bramhall. All men. Janine volunteering to save herself for Sunday. RichardC whizzed home first finisher with Barry 4th and GrahamS hitting 20 minutes. Barry is now consistently hitting an AG of 80% or more.
TrevorM returned to Morse country and his Endeavours brought rewards: his highest AG since New Years Day. GrahamD at Lyme Park was so close to a PB; Huma ticked Alexandra Park off her park run competition list.
IanS returned to Easingwold for his 200th parkrun and PB'd by 20 seconds. Rebecca was second lady finisher at Didsbury which also saw Oliver make an appearance.
At Wilmslow PaulN returned from a fantastic South American adventure to complete a pre-bagging parkrun much quicker than his January 1st time. He was first club runner home. Behind him RichardHa, pacing, and MikeH were stretching their legs for Sundays races. So too was Kate who was 1 second off her 2019 time there. Nicky was getting to grips with her pacing legs- her pace was equivalent to around 1:47. Needs to only be a smidge slower to get her 1:50 target. Julian split the two ladies. The bag packing squad helped with volunteering. These included: Nic and TracyB, Amanda, Richard and Nicky. Only 210 runners here – normally it's around 260. Virus concerns or more likely Sundays WRF.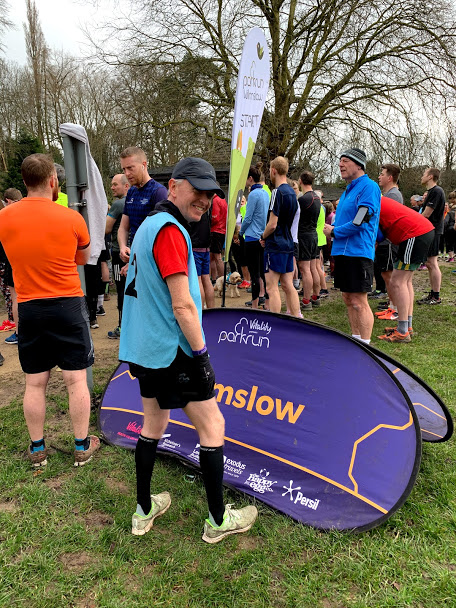 Pictures added to last weeks results!
Summary
Busiest event Bramhall [362]; Quietest Lyme Park [131]
Fastest Male: Richard Coen (17:17); Female: Rebecca Jackson (21:27)
Performances of Note: Trevor Morris (AG: 81.83%); Barry Archbold (AG: 80.15%); Richard Coen (1st Male); Ian Smallwood (200 Parkruns and PB);
Tourist: Trevor Morris – Oxford
Full results below:
Bramhall parkrun
A total of 362 runners took part.
Oxford parkrun
A total of 355 runners took part.
Lyme Park parkrun
A total of 131 runners took part.
Wilmslow parkrun
A total of 210 runners took part.
Fletcher Moss parkrun
A total of 234 runners took part.
Millfield parkrun
A total of 203 runners took part.
Alexandra parkrun, Moss Side
A total of 248 runners took part.