Two races are on towards the end of the month.  A 10-Miler and a Half Marathon which also is a qualifier for the English Masters Half Marathon Team.  Why not do both.
There's a 10 mile road race at Lytham St Annes.  If you fancy a flat, fast, scenic 10 mile winter run try this one . Based in Lytham St Annes in Lancashire the run is along the coast past the windmill. Ideal for a PB or a great winter training race for those looking for half marathons or marathons. Enter and more details here  Race date is Sunday January 26 at 11:00hrs.  Medals, gifts and prizes too.
The other is the established Essar Four Villages Half Marathon.  A number of us have done this in preparation for a marathon or just to build up our endurance.  I see 13 of our runners have entered already! Some of you could qualify for England!!!
It is a popular road race on rural roads around Helsby in Cheshire. Organised by Helsby Running Club, the race is in its 37th year and was voted Best Half Marathon in the North in this year's Challenge Awards. It is a great race to keep you training over the festive period and as preparation for the spring marathon season! All runners will receive a commemorative medal and goody bag.

This year we are a qualifying race for England Athletics Masters Half Marathon Team. In addition to entering the race please register your interest with England Athletics to be considered for the Masters Half Marathon Team. The top four male and top four female eligible runners in each five-year age band at each of the qualifying races will be selected to represent England in Spring of 2020.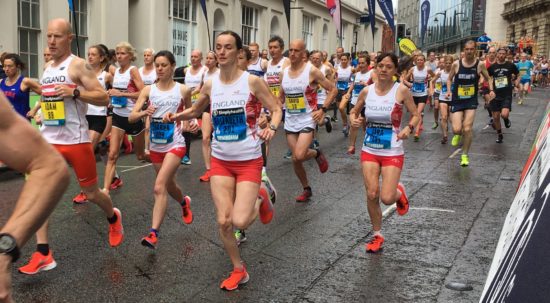 For more details of the qualification times and registration click here.
| Age Group | Male | Female |
| --- | --- | --- |
| V35 | 77m30s | 89m00s |
| V40 | 79m00s | 90m30s |
| V45 | 82m30s | 94m30s |
| V50 | 85m30s | 1hr40 |
| V55 | 90m00s | 1hr45 |
| V60 | 95m00s | 1hr54 |
| V65 | 1hr43 | 2hr10 |
| V70 | 2hr00 | 2hr30 |
| V75+ | 2hr30 | 2hr45 |