Hopefully most club runners who did the parkrun this week managed to finish and get home before the rain came. Though by the turnout it maybe a lot of people chose to watch England get turned over tactically by New Zealand.  Or were getting their bonfire and fireworks ready!! We had 21 Club runners running at 7 parkrun events.
Unfortunately, my comeback is now on hold. Having rested last week, I decided to commence building up the muscle loss on my right leg. Only I overdid it watching the great rugby last weekend and managed to strain both my hamstring and calf. Add that to adductor, quad, shin and hip and that's a full house!!
At Wilmslow Sam [2nd home] led the Club peda-ton in; Andrew, TrevorM and RichardHa followed 3-4-5 . For Sam that was three weeks on the trot finishing second. Trevor had an AG of 80.99%. Richard having a week off pacing and Craig returning to parkruns after almost a years absence had quickish times. Andrew 3rd, is getting quicker every parkrun since his return from injury, and is now just a minute off his February time.
ColinC put in one of his consistent runs. A little behind was Laura – taking it easy. She is closing in on 100 parkruns soon. But her father John turned out to complete his 300th run!!
Jan sub 25 again, Kathryn behind just one second quicker than last weeks flooded run. Jan showed RobW a clean set of heels this week. Presumably she washed her shoes after Helvellyn!
Sue also stretched her legs after last week's Helvellyn trail event. TrevorF returning after a week's rest, ran for the third time since his return from injury,  to knock some 20 seconds of his previous time. Roy marshalled and watched over the runners. Colin from Altrincham paced excellently as usual on his first outing as a 70 year old.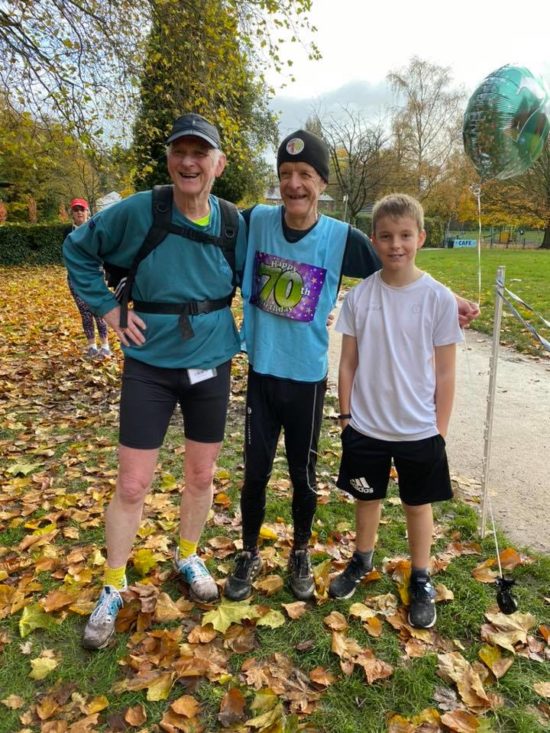 At Bramhall the floods had receded. PaulN as usual put in his 21 minute run. IanS, pipping Janine, didn't manage to improve on his earlier 2019 time. Janine helped out and ran at her recent pace. Nick directed as usual.
GrahamD was touring in Yorkshire and put in one of his fastest runs since August, finishing 3rd. Even further afield was RichardL, perhaps taking his clubs to  St. Andrews; he first-timed with a very quick time to finish 5th. Amazing this was his 51st different Parkrun course!!
Nicky and Don chose Wythenshawe to pursue the Parkrun competition. Nicky like Laura just needs to do 6 more races to hit 100. Malcolm after his exploits at the Police XC on Wednesday returned to the mud and hills at Macclesfield and was second person home with a strong run.
Lastly ChrisC accompanied RichardHi around Didsbury. It was Richard's 100th Parkrun.  (Chris is closing in on 250)!  Bacon butties all round I assume afterwards. Sadly I am letting the BBC down and may lose my job  at the Breakfast Buttie Cencus corporation,  there too! Only the 30th November to aim for to complete the parkruns.
Summary:
Busiest: Bramhall (258)  ; Quietest: Catterick (121)
Fastest Male: Sam Bailey (18:34)  ; Female: Janine  Ellis(22:54)
Tourist: Richard Lawson (St. Andrews)
Performances to note: Richard Lawson (51st Parkrun Event Location); Trevor Morris (AG: 80.99%); Nicky Mowatt (AG:79.08%); Malcolm Fowler (AG: 78.68%); Richard Hirons (100th Parkrun))
Full results below:
Bramhall parkrun
A total of 258 runners took part.
Catterick parkrun
A total of 121 runners took part.
St Andrews parkrun
A total of 174 runners took part.
Wythenshawe parkrun
A total of 207 runners took part.
Wilmslow parkrun
A total of 142 runners took part.
Macclesfield parkrun
A total of 189 runners took part.
Fletcher Moss parkrun
A total of 197 runners took part