With our club receiving its one guaranteed place. You will have seen Paul's eMail regarding how we allocate it.
We hold a draw at Food Night on Tuesday 12th November.  To be eligible for the draw you have to have:
entered the 2020 London Marathon ballot and been rejected
been a Club member for at least 12 months prior to the date of the draw.
If you meet these criteria and would like to be entered for the ballot, please email Paul by Friday 8th November.
What reminded me of this was spotting a photo: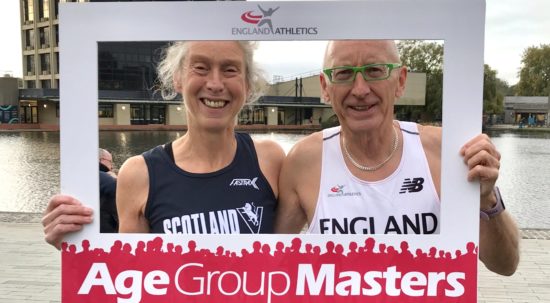 This was taken at the ASDA Foundation Yorkshire marathon Sunday 18th October. I recognised the gentleman from last year when I also ran for England. I only ran with him for 10k or so! But we chatted  later that day on Chester Train station Platform awaiting the London train. There are some amazing runners in the age categories. I think a few of you could challenge in some. What cheered me up reading abut Lynda!
Lynda Hembury (Tring RC – F60) was the top female WAVA age graded performer of the day, with an astonishing time of 3:15:21 and a world class mark of 94.11%. Lynda was a little surprised with her own performance given that only 12 months prior she had been in a wheelchair following a hip operation. 🙂
Click here for the full article.