Another fine morning for parkrun saw 26 club runners run at 8 parkrun events.
Janine and PaulN were the only two resident runners to run at Bramhall. Paul as usual with his usual consistent pace and time; Janine with her second fastest time there this year.
TrevorM chose the cycle park in Gravesend – third runner home with an AG of 80.38%. Interestingly out of 139 runners there, apart from around 15 runners, everyone either PB'd or was a first-timer! Other single runners included: Huma at  a busy Stretford and myself first timing at Didsbury.
JohnP and AlanT chose South Manchester – John didn't improve on his previous 2019 best time; Alan returning there after 3 years ticked it off the parkrun competition list. ChrisC and RichardHi joined Angela at her local course. Chris and Richard paced each other round; Angela took it easy too.
Lyme Park saw MikeH and RichardL choose the hills – but neither improved on their 2019 times. The old Men of Oi (as in "Oi! move over fast runners approaching") were back too,  IanA couldn't improve on his 2019 time – but Roy, running so well at the moment, knocked almost a minute of his 2019 time.
Wilmslow had most club runners attending. Directed by Nicky and marshalled by a team of 38 volunteer including Don saw Jim pipped by a first-timer from Matlock. Jim was 1 second of his PB which he set almost a year ago – he did achieve his best AG of 80.26% and highest that day.
Wilmslow Striders were in attendance too providing pacers from 21 minutes up to 31 minutes – 53 runners PB'd.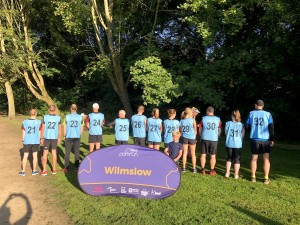 Also running were Manchester Hive 22 – launched in memory of the 22 victims of the Manchester Arena bombing.
AndrewC, Robin, and Julian formed a close pack finishing 10th, 11th and 13th. Julian and ColinC were not far apart; whilst GrahamD and RichardHa were neck and neck and only split by the token giver-outer! Oliver was just ahead of those 2 – that's two on the trot at Wilmslow for Oliver after all his travels. Laura was first lady club runner home SueS, running her fastest parkrun for 15 months, not far behind her – and Giles somewhere in the middle.
I chose to visit Didsbury for nostalgia – here was where I did all my marathon training and reps at lunchtimes after joining the club. Setting myself a target of 31 minutes and setting off at the back as usual. It took me 2k to understand the route as some of the paths were muddy trails back  in the old days! Tight paths meant overtaking was limited or dangerous at the start as I discovered when overtaking lady with dog running by her and finding another lady with pram was choosing to overtaking me at the same time. Valour and preservation – and not wanting to be a sandwich filler – prevented carnage as I braked. Last week I thought the grass (soft and muddy) helped prevent soreness and aching – but I realised standing at the start that I was still aching – albeit in different areas. But my motto of Use-it-or-Lose-it prevailed.
I was up early to stretch this week and parked up in time to walk leisurely to the start. But why then should my left ankle start to hurt after 1 mile! Didn't look at watch and savoured the course and was more than surprised after finishing to find I had broken 30 minutes!!!    A reward for this, at the café in the park, was a bacon bap – I couldn't believe how much bacon they put in  – until I had to pay!  Must find a cheaper option next time. But so sore last night and today.
Summary:
Busiest: Stretford (605)  ; Quietist: Lyme Park (132)
Traveller of the Week: TrevorM (Gravesend)
Fastest: JimP (18:14); Janine (22:05);
Best performances: TrevorM (80.38%); Jim Pendrill (80.26%)
Full results below:
Bramhall parkrun
A total of 445 runners took part.
South Manchester parkrun
A total of 450 runners took part.
Marple parkrun
A total of 186 runners took part.
Lyme Park parkrun
A total of 132 runners took part.
Wilmslow parkrun
A total of 256 runners took part.
Stretford parkrun
A total of 605 runners took part.
Fletcher Moss parkrun
A total of 294 runners took part.
Cyclopark parkrun
A total of 139 runners took part.