Sunday August 4th.
Summer Series, race 12
In a week in which climate change brought the monsoon to North Cheshire, there were concerns, given Bollington was badly affected, as to how it might impact on the race. In fact, as it turned-out, not at all. There was, however, a tropical feel, warmer than most would ideally like for running and, despite a breeze, a clammy humidity. Nevertheless those of us looking to the conditions, rather than ourselves, to blame for a disappointing time did not have a strong case.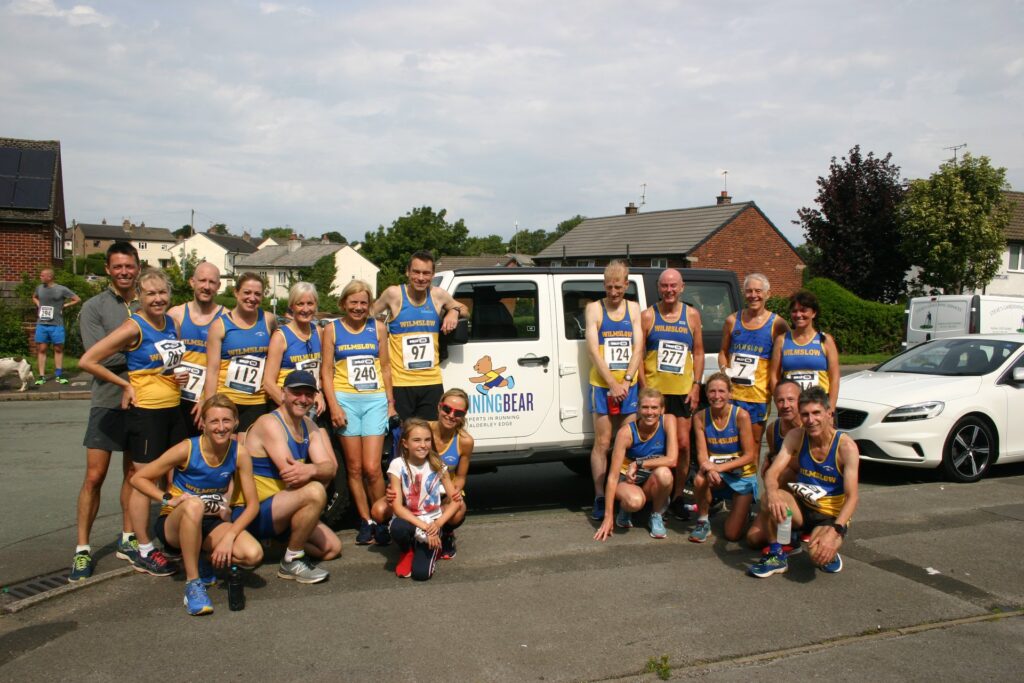 Wilmslow won the team 'prize'. Our star performer was Nicola, second lady and first vet, if 'vet' is not a little unfair at F35.
Equally meritorious was Jeremy being first Wilmslow runner home. It feels like he has been injured for ever but he produced a time that suggests he may quickly continue where he left-off.
Only the day before Graham was unsure if a throat infection would prevent him running, but doctors can work miracles nowadays. James back from holiday was 15th., Nicola 21st. Tim was 30th. and fourth in a large, 54, field of M50 runners. The two Paul's were, as ever, tied together; Garnett getting the edge over Norris by 5 seconds. The latter, as he always seems to do, finished second in his age category, he takes it with a smile rather than frustration.
We did have category winners in Diane (F40), Tracy (F50), Nicky (F60) and Ian (M70).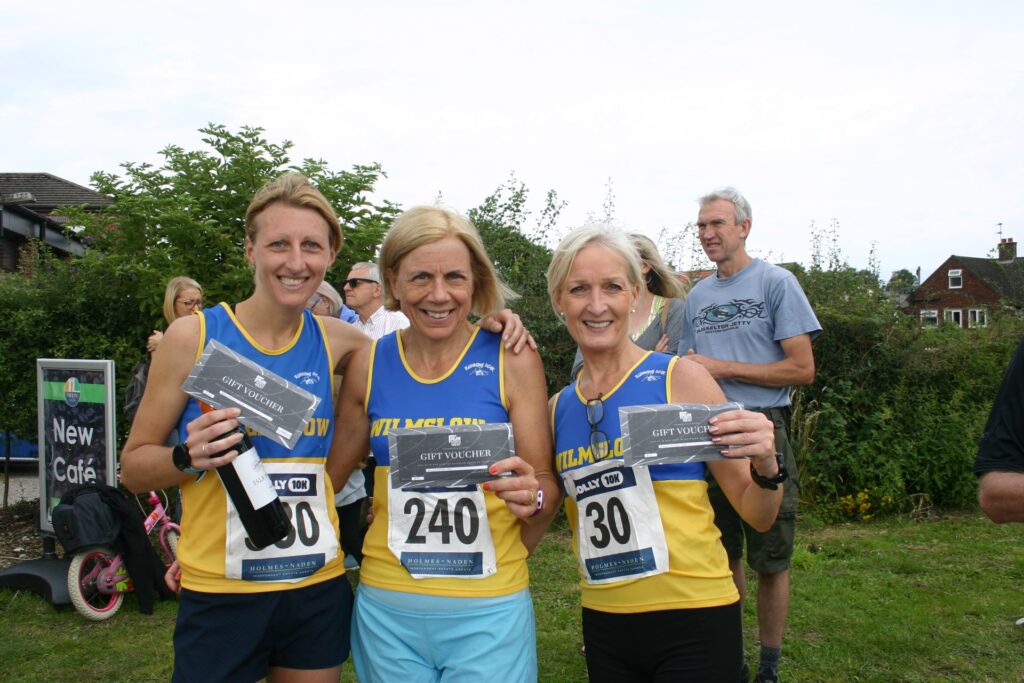 Diane won League 2, her fourth successive victory. Next was Ian Smallwood, who has three wins, then Laura, Tracy and Colin, whose league leadership may be drawing to a close.
Nicky also won League 3. Angie, like Jeremy, has bounced-back from a long period of injury without any apparent ill-effects. Each race Kathryn progresses and Cat also ran well. Jan isn't really ready to be allowed out by herself and finished with cuts to both knees, one a bit nasty, and both arms, but her time was still ok. John has come back from his collapsed lung with remarkable determination, I thought him back to where he was, but he flatters himself that there is more to come.
Friends laugh at me still running but there was a wonderful article about heroes of my youth; the Stones, the Who, Fleetwood Mac, Bob Dylan, Neil Young, the Eagles. They are still touring in their 70s but nowadays it is with their personal trainers and dieticians rather than junkies, groupies and drug pushers. The continuance of their careers is dependant upon they being religious in their fitness regime, they still do the drugs, but it tends to be vitamins.
I did not see either Catherine or Julie. Roy, as always, started quickly despite 10k for him being a marathon. I passed Roy early on and tracked Sue through the first 4k. Rachael came passed after 2k but unexpectedly never really got away. Through the years Rachael has never managed to train or race enough to do justice to her ability. I went ahead of Sue on the climb to Shrigley Hall, thinking that was it, but she came back with 800m to go, I sneaked-up on her with 100m left but she saw me and sprinted off. Catherine continues the long haul back to where she was last year. This was Julie's first race since her 100km epic, 10k barely counts as a warm-up.
It is a good varied race with perhaps just the 3k along the canal a bit boring. The threatened rain held off which must have been a relief in Whaley Bridge.