On a sunny Saturday our parkrunners – 37 of you – were at 11 events. A real big turnout (22) was at Wilmslow where, following on from Team Sky's cycling approach to inspire cycling participation, Team Mowat were there, wearing sky blue colours, providing encouragement and support for the local Wilmslow parkrunners. More later.
No ped-aton at Wilmslow but an elite Wilmslow mini ped-aton ran at Bramhall. RichardC led everyone home with an AG of 81.09%, with Rob, still recovering from London, third finisher (AG 84.66%); and BarryA fourth – a bit slower than last years' time. The two Pauls battled all the way to the end PaulG by a second came just ahead of PaulN. Paul who is now 2 runs off 400 parkruns, ran his fastest parkrun for over a year – breaking 21 minutes. Janine, second lady finisher ran her second fastest time this year.
Roy was a first timer at Woodbank – and pushed himself around the hills – four minutes quicker than his Lyme Park hilly run. JamesM fourth home at Burnage – Lord Didsbury being first – ran his fastest parkrun this year.
Travelling parkrunners included RobJ at Kingsbury (Sutton Coldfield) – but I'm unsure what '(assisted)' in the PB column means; Oliver, first timer, at Edinburgh ran a very quick time.
Most runners, 899, were at Heaton Park where GrahamS, probably over his marathon training by now, ran his fastest parkrun this year – and only 20 seconds off his 2015 Heaton Park time. RichardL ran his second fastest parkrun this year at Sale and was 2 seconds off his February PB. IanS, back at York, took it easy after his PB there in April. ChrisC, nostalgic, revisited Didsbury and coasted around.
Mark revisited Cheadle, and though winding down for Edinburgh, ran a PB by 15 seconds knocking nearly 3 minutes off his 2019 parkrun competition time.
Now, back to Wilmslow where non-pacer Claire, may have had herself a personal pacing challenge and was first lady finisher just over 19 minutes but a PB by just under 50 seconds. Not to be outdone Sam, third home, improved his PB by 10 seconds on last weeks PB. Trevor ran fast again with his fastest for over 20 months and an AG of 83.31% – his best AG for over 2 years.
Mike ran his fastest time for 3 months, James slower after last week's PB, and Colin registered his 2019 parkrun competition time for Wilmslow. 
Kathryn, making her debut to Parkrun, stuck to Laura's tails and bounded in under 25 minutes; Sue back at parkrunning since October, ran her own personal pace of 27 minutes.
Our pacers did fantastically: The Little Miss Perfect title was shared by Laura and Jan who ran 25 and 28 minutes exactly. Tim was next closest, his watch said 22 mins but officially he was 2 seconds past 22 minutes.
Virtually all our other runners came under their allotted pacing time. So a big thanks to everyone: RichardH, GrahamD, Tim, Louisa, Tracy, Laura, Nicola, Emily, Jan, Kate, Alan, ColinC and to Don running back to back parkruns for the first time in a couple of years. Also, mustn't forget Nicky for arranging it.
Me, I managed to recover from the disappointment of being dropped from the pacing team. Hopefully it was because they didn't want me to hurt myself and not because I'd let the pacing club down or ruin the team photo – being in the middle of all the lady runners!! 😊.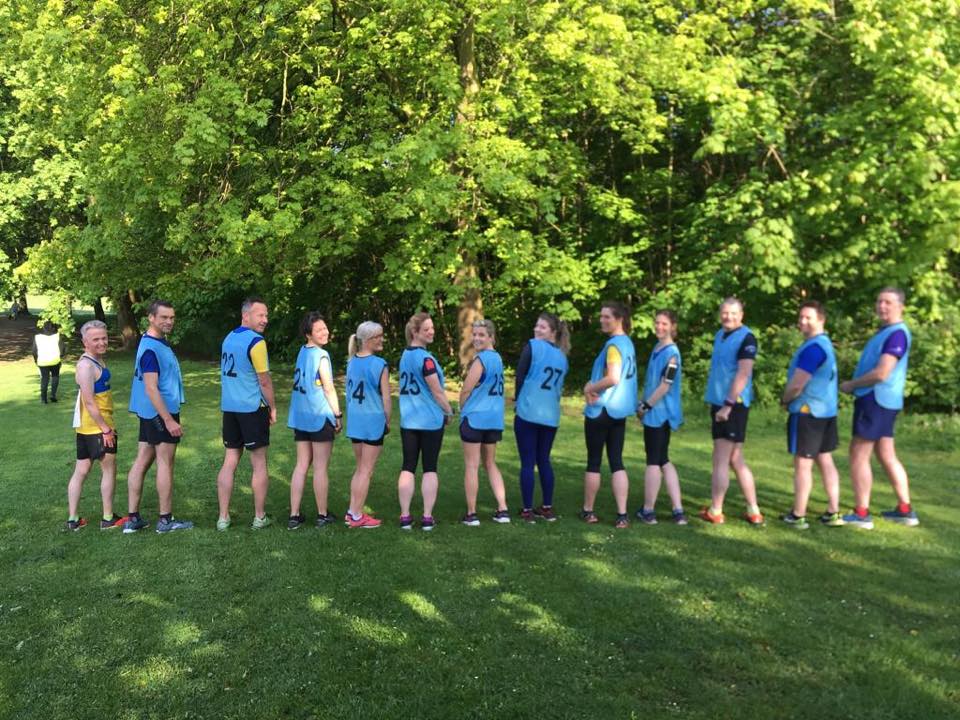 So I followed my physio/chiropractor's advice to run and work the leg.  With a target between 26 and 27 minutes – was pleasantly happy with the time – especially as, according to my watch, I was already 85 metres behind target by the time I'd walked across the bridge, stuck in a crowd of runners at the start. Just fingers crossed for the next 2-3 days.
Apologies if I missed anyone. Full details below:
Bramhall parkrun
A total of 444 runners took part.
Heaton parkrun
A total of 899 runners took part.
Woodbank parkrun
A total of 186 runners took part.
Burnage parkrun
A total of 126 runners took part.
Kingsbury Water parkrun
A total of 582 runners took part.
Cheadle Hulme parkrun
A total of 74 runners took part.
Portobello parkrun, Edinburgh
A total of 322 runners took part.
Wilmslow parkrun
A total of 256 runners took part.
Sale Water parkrun
A total of 445 runners took part
New Earswick parkrun
A total of 110 runners took part.
Fletcher Moss parkrun
A total of 294 runners took part.