Cat writes…
Well, we set off from home in plenty time for the 6.45pm start from the Red Lion in Whitworth.  With roadworks and traffic we arrived two hours later, with 6 minutes to get my number and have a wee before the start.  There was a nice touch of a large bar of chocolate handed out at registration, then lots of excitement and chatter as many more runners appeared just in time for the start and weighed up the rain and low level of mist.
I decided to run in a vest, with my fell kit in my bum bag.  As we lined up, all the Wilmslow runners were delighted with the low turnout from the Club, as we all knew that meant more points as we near the end of the season. It was going to be worth the drive and inevitable pain ahead!
The whistle went and we climbed immediately and steadily in rain and mist, up the road and onto the fell.  I was determined to start relaxed and not to chase Chris as I had tried to do at my peril at Lyme Park on Sunday.  He pushed on looking comfortable as did Tony, just back from a mountain race in Switzerland.  The front runners from Wilmslow were fast out of sight.  Steadily we climbed through bogs up to our knees, narrow ravines, across shale and through reeds.  One big ascent, then down, then a short steep ascent, then down, then a final ascent, across a flat muddy plane and then the turnaround.  As I approached the halfway point I saw Chris on his way back.  The man was on fire!
I started my return journey and dug deep to build up some momentum. I could see Don, Nicky and Carolyn coming up as a group and I knew I had a comfortable gap but one that Nicky could close given any opportunity.  Soon I felt as though I was flying.  From the hell of the ascent, I was experiencing the fleeting joy of skipping down a mountain, effortlessly.  I was racing and loving it.  I urged the ladies in front of me to descend faster and then politely overtook them.  Suddenly, I realised that I was descending too steeply and in the mist I couldn't see any orange posts to navigate.  I stopped and looked around to see about ten runners following my lead. "Oh Shit!" (Excuse my French), "I've taken them all off-piste".  No-one could see a marker or knew what direction to head in.  I got my whistle out of my kit bag and blew hard again and again.  Someone up above us waved a marker and we all climbed back up the hill as fast as we could to get back on the route.  Just as we started to race again, I then turned my ankle.  A good race was now very much in jeopardy.  For a few seconds, I thought I'd need to put my cagool on and limp down, race scuppered.  I kept going gingerly and the gap began to grow from the runners in front.  They were disappearing into the mist 60 metres ahead. I worked hard to keep them in sight, wishing the race to be over.  I was expecting Nicky to overtake at any moment.  Soon I was back in the joy zone, closing the gap to the runners in front and over taking them.  I knew it was only down hill from now on and let myself go, regardless of my weakened ankle.  Finally, I could see the headlamps of the mountain rescue vehicle on the road, then the bright blue of Mike's jacket.  "How far?" I shouted to the mountain rescue.  "Not far now" was the reply…. not very helpful when you're trying to calculate your finishing pace!  I got to Mike and Malcolm (who had finished in an amazing 5th place and come back to support), "500m to go".  I upped my pace, determined not to lose a place now.  Chris appeared with a shout of encouragement and "only 400m to go".  Well I have to say it felt like a long 400m but I gave it my all.  Over the line, we laughed about losing the route and I was easily forgiven by my fellow runners.  Nicky soon appeared, followed by Don, then Carolyn.  All muddy, exhausted and happy with their achievement on a wet Thursday evening.  What better to do?
Mike and I had to jump in the car and head off down to the south coast, me soaking and stinking of bog water and him with his sights set on our first pit stop…..Starbucks.  I believe all the Wilmslow runners did well….congratulations!  And a big thank you to the organisers and marshals.
Muddy finishers: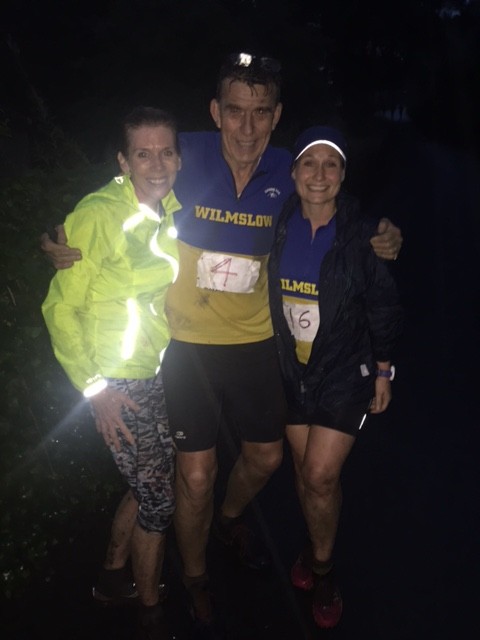 Catriona